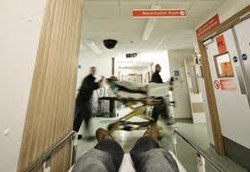 The medical director has claimed, that to eliviate the growing pressures mounting on NHS hospitals, changes must be made to the current system of operation
Bolton, UK (PRWEB UK) 27 November 2013
The medical director has claimed that to alleviate the growing pressures mounting on NHS hospitals, changes must be made to the current system of operation. His recommendations suggest that amendments should be made to the 111 phone line structure, that paramedics should be given more freedom to administer treatment at the scene, and that same day GP appointments should increase in availability (1).
Amongst his proposals, Sir Bruce Keogh calls for an overhaul in the current system of 111 phone calls, which has been a source of high speculation, and criticism, since its launch. According to the report, hopes were that the phone line system would offer people sound medical advice, dispatch ambulances for serious concerns, and schedule GP appointments for patients that required a prompt consultation (1). However, it has been reported by The Telegraph that patient groups have concerns regarding the 111 phone lines operations, which has resulted in added pressures for A&E departments, causing present resources to struggle with the high demand (2).
Speaking on the report, Laura Williams, from medical negligence solicitors, Asons, said:
"It is obvious to see that the NHS has been subjected to mounting pressure over the last few years, making it highly commendable to see a genuine effort being made to improve the current health service. If the pressure continues to be taken away from the accident and emergency departments, more time can be dedicated to patient care; something that should consistently be a priority across all hospital trusts.
"From my observations, the current system, introduced to replace the NHS direct phone line, has had a few teething problems following its launch. The suggestions that Keogh has made in his report imply that patients should be able to speak to trained medical professionals who can analyse their issues in greater detail, rather than being tended to by call centre staff. Hopes are that this will reassure people, helping them to understand their ailments, preventing the unnecessary dispatch of emergency services, and paramedics- reducing the pressure placed on NHS staff, reducing the occurrence of medical errors."
Keogh continued to suggest that rather than admitting a large majority of patients to casualty departments, it would be more sustainable to generate a system where paramedics are granted more responsibility, allowing them to treat less serious incidents at the scene. According to The Telegraph, medical officials believe that this will reduce the pressure accident and emergency departments are under (2).
The report released also suggests that hospitals will be under less pressure, if patients become confident that they can access their GP when needed. This assessment is in addition to Keogh's previous suggestions; to implement a culture of 24/7 health care, allowing patients to receive greater access during 'out of hours' periods, such as weekends (1).
Continuing, Ms Williams said:
"Patients having access to 24/7 health care has been under discussion for a number of months now. The introduction of which, would be crucial in reducing cases of medical negligence. Hopes are, that giving people greater accessibility to GP care will improve the care being given to patients in both this, and other areas of the NHS. Consequently, this would reduce the number of hospital admissions during weekends, alleviating the pressure placed on hospital staff. "
Any injury, or unnecessary suffering, which has been caused by an under staffed health care system, may be seen as an incident of medical negligence - in which case, compensation may be rewarded. To find out more information on substandard care, visit http://www.asons.co.uk or phone 01204 521 133 to speak to a medical negligence solicitor.
(1) NHS England, Transforming Urgent and emergency care service in England, Chapter 3 Pages 22-27, 13/11/2013
http://www.nhs.uk/NHSEngland/keogh-review/Documents/UECR.Ph1Report.FV.pdf
(2) The Telegraph, Future of NHS 'depends on speedier healthcare outside hospitals', 13/11/2013
http://www.telegraph.co.uk/health/healthnews/10445312/Future-of-NHS-depends-on-speedier-healthcare-outside-hospitals.html
About Asons Solicitors:
Asons Solicitors is a Bolton-based law practice that specialises in personal injury and industrial disease claims. Founded by brothers Imran Akram and Kamran Akram, Asons Solicitors has developed to become a young and dynamic law firm that delivers practical solutions to clients in times of difficulty. Their continued focus on their staff has seen them awarded with the Investors in People "Gold Award"; which is reflected in the professional and personable approach they take in working with clients. They strive to grow and to develop, and their supportiveness and attention to detail ensures that their clients use them time and again.
All views expressed in this article are those of the individual and do not necessarily represent the beliefs of the firm.
For further information contact:
Email: info(at)asons(dot)co(dot)uk
Website: http://www.asons.co.uk