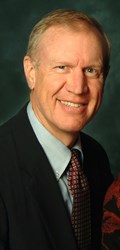 "This amendment will help put the people back in charge of state government and folks are enthusiastically signing on."
(PRWEB) November 21, 2013
The Committee for Legislative Reform and Term Limits announced today that it has collected more than 150,000 petition signatures and is halfway to placing the term limits amendment on the November 2014 ballot.
"Illinoisans are hungry for term limits and our effort is gaining serious momentum," said Bruce Rauner, chairman of the committee. "This amendment will help put the people back in charge of state government and folks are enthusiastically signing on."
The term limits initiative has steadily gained steam since it was announced at the beginning of September. In September, the committee collected 12,250 signatures. In October, over 61,000 signatures were collected. More than 77,000 signatures have already been collected in the first three weeks of November.