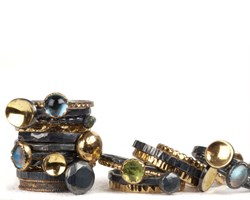 A Unique Selection of Classical Designs Updated with a Contemporary Feminine Twist
Boston, MA (PRWEB) November 27, 2013
Jenne Rayburn Handcrafted Jewelry and Wearable Art, a Boston based designer, presents her handcrafted jewelry collection at The Lexington Arts and Crafts Society Holiday Market in Lexington, MA from December 4th through December 24th. The Lexington Arts and Crafts Society is located at 130 Waltham Street in downtown Lexington, Massachusetts. Holiday Market hours are Monday through Saturday 10AM - 6PM and Sundays 12PM - 6PM.
Jenne Rayburn is a member artist of the Metalworkers Guild at The Lexington Arts and Crafts Society. Membership in the Guild is by a jury process, and is for the lifetime of the juried member. The Lexington Arts and Crafts Society's unique community, facility and resources enable local artists to practice their craft, learn new skills and sell their creations at the Society's art gallery, which offers for sale original art and handmade crafts by local member artisans. "My membership with the Lexington Arts and Crafts Society Metalworkers Guild is a catalyst for new creative directions in my metal work and enamel jewelry, and enables me to focus on larger scale explorations and technical innovations in my work," said Rayburn, from her studio in Malden, MA. "I am thrilled to be a part of this robust arts and crafts community and a resident the Guild studio."
The Lexington Arts and Crafts Society is an organization of juried fine craft artists from throughout Massachusetts. Members of the Metalworkers Guild are an active community of life-long craftspeople. With nearly 400 members, in nine guilds, the Lexington Arts and Crafts Society has provided a place where artists can gather, work, inspire one another and keep craft traditions alive for over 77 years.
The Lexington Arts and Crafts Society was founded in 1935 as a non-profit regional education center dedicated to the preservation and promotion of excellence in both traditional and contemporary arts and crafts. With the objective to encourage higher artistic standards in the arts and handicrafts, the Society continually invites local and emerging artists to be members to ensure that traditional crafts endure, are valued and are available to the public. "The work on display at the LACS is simple and elegant, made from primarily sterling silver and semi-precious gemstones," notes Rayburn. "My designs are rooted in traditional metalsmithing techniques, yet interpreted with a modern esthetic that celebrates materials with minimal embellishment. I hope my work is seen as timeless, and as statement jewelry that can be dressed up or down and always make the wearer feel fabulous."
The Lexington Arts and Crafts Society houses a gallery to showcase the works of the artists of the Society. For more information, go to:
The Lexington Arts and Crafts Society
130 Waltham Street Lexington MA 02421
Phone: (781) 862-9696
http://www.lacsma.org
Visit Jenne Rayburn's collections: http://www.jennerayburn.com.
Visit Jenne Rayburn on Facebook: http://www.facebook.com/Jenne.Rayburn.
About:
About: Jenne Rayburn is a Boston-based jewelry/textile artist who also studied interior design and architecture, and her work explores the convergence of architecture, design, technique and identity. Balancing the demands of a career and a growing family, Jenne is a mother, wife and daughter who designs for herself and all the women in her life who want to feel uniquely beautiful and powerful. It is her hope that the wearers of her pieces will find joy in a delightful artistic statement, and also something that enhances their individuality and confidence. Her work is suitable for wedding jewelry and is carried in local galleries and online. Please visit http://www.jennerayburn.com for Jenne Rayburn's online store. For wholesale information, please visit jennerayburn.com/wholesale.com.