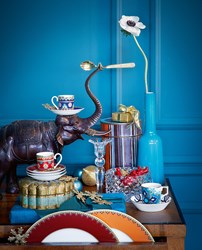 Let Villeroy & Boch's holiday gift guide lead you toward the perfect present.
Ne York (PRWEB) November 21, 2013
Villeroy & Boch is celebrating the holiday season with ideas for everyone on the holiday gift list. The holidays are a special time of year and Villeroy & Boch is honored to offer pieces that have become heirlooms that can be cherished for generations.
Let Villeroy & Boch's holiday gift guide lead any gift-giver to the perfect present. Christmas gifts for her include items for the Villeroy & Boch collector, modern dweller, or the entertainer. The New York Mug Gift Box and New Wave Caffe Cities of the World Collection make fabulous gifts for the sophisticate on your list. Let the Toy's Delight Cake Plate impress with its charm, while the NewWave Antipasti Set has a modern flair.
Impress gentlemen on the list with Christmas gifts for him that include crystal barware made from high quality crystal including whiskey tumblers, wineglasses, decanters and more. The Gourmet Whisky Collection is always a crowd-pleaser, while the Purismo Collection includes classic Christmas gifts under $50.
From table settings and serving pieces to keepsakes and home décor, Villeroy & Boch brings everyday luxury to the holiday season. Known worldwide as a prestige brand, Villeroy & Boch has items for everyone on any holiday gift list. From collectible table settings to Christmas ornaments and serving pieces, Villeroy & Boch offers everyday luxury and a warm festive spirit.
Villeroy & Boch prides itself on its range of table décor, barware, premium serving pieces, teapots, baking and kitchen storage supplies, kitchen accessories, ornaments and other festive seasonal items which bring everyday luxury to the home, making the holiday season both elegant and enjoyable.
Celebrate the season with Villeroy & Boch. To view the entire Villeroy & Boch gift guide, please visit: http://www.villeroy-boch.com/shop/holiday-gift-guide.html. For more information on the Villeroy & Boch product line, please visit: http://www.villeroy-boch.com/shop/.
***
About Villeroy & Boch
Villeroy & Boch was founded in Germany in 1748 and is one of the world's largest producers of premium porcelain, crafting everything from high-quality dishware to world-renowned sinks, baths and toilets. Hand-blown, quality glassware was added in 1843 to complement the growing diversity of dishware lines. Since its origins over 265 years ago, the ceramics manufacturing company is known for its elegant international lifestyle brand and is represented in 125 countries around the world. The North American headquarters are located in the NY metro area of Monroe Township, N.J.