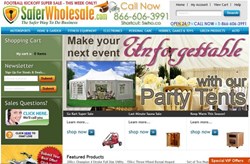 Saferwholesale.com - the safer way to do business
Joliet, IL (PRWEB) November 22, 2013
Turkey day will come and go, leaving only one massive crusade to conquer: Black Friday shopping. Instead of getting presents by virtue of stampeding through big box stores this holiday season, consider exercising that mouse finger though thousands of products available from Safer Wholesale, America's authority on wholesale merchandise without huge retail prices.
SaferWholesale.com, born on the flea market platform and innovating their ecommerce platform every day from their Joliet, IL headquarters, offers truly exciting holiday shopping that has moms and dads, from coast to coast, Christmas lists covered, providing unparalleled support and laser accurate shipping for all your purchases.
Whichever way it's generally perceived, Christmas can be an extremely beneficial time of year for both parents budget wise, and children gift-wise. The cost of Christmas is something that causes many stresses for people all over the world, year in and year out- but this no longer needs to be the case at all with Safer Wholesale since they're providing an inexpensive means for shoppers around the United States to get their gifts without leaving home. As long as individuals are sensible when it comes to spending hard-earned money, having Christmas on a budget is definitely achievable, and this Joliet, IL company has definitely made gift giving an enjoyable experience for everyone involved – regardless how big or small shopping lists tend to be.
The Saferwholesale.com Crew is Standing By!
With Christmas on its way, many gleeful Americans are starting to feel the festive cheer and are eager to begin planning a magically memorable occasion that is enjoyed by all. Saferwholesale.com is helping families big and small find the gifts every girl and boy wants, while creating a Christmas that is filled with joy and happiness, too. Before making that unnecessary and sometimes erratic mad dash towards box store deals, Safer Wholesale is a great place for avid sports fans and shoppers alike to spend time looking through a massive inventory of goodies for all ages.
Chock full of cool gadgets, ATV's and mini-bikes, Saferwholesale.com offers the gifts children really want, at prices parents really can afford, with shipping deals going on now. For even more news about Safer Wholesale, make sure to view recent press announcements from their home page. Remember that it's the thought that counts, but how is a child going to interact with a knitted sweater?