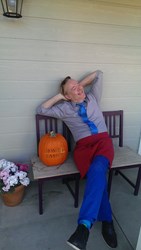 Hollywood, CA (PRWEB) November 22, 2013
The Thanksgiving Holiday is almost here and aside from the delicious food, your table decor speaks volumes to the type of setting you want to create. Need tips and hints on how to accomplish an unforgettable Holiday? Well, do not be dismayed, so did the hosts of the Home and Family Show in Hollywood. So, what do they do? They call their expert on the subject, world famous florist Mr. Michael Gaffney.
Michael appeared on the Home and Family Show on November 12th to share some of his quick and easy tips on creating a festive table garland that will impress your family and special guests. When starting his table garland with Hosts Christina Farrare and Mark Steines, Michael states, "It is as easy as making a 'peanut butter and jelly sandwich'." Michael starts by stacking his fresh green materials in layers like when making a sandwich and finishes by wiring the segments together across the table's surface. The greens, consisting of Lemon Leaf, a mixture of evergreens and magnolia branches, look stunning all on their own but Michael doesn't stop there. The next step, Michael instructs, is to add some texture and pops of color. To do that he adds fresh tangerines, lemons and winter berry. All things that are apart of the fall season and will last, looking fresh, beautifully for a prolonged period of time. By the time Michael, Christina and Mark are finished, the dining room looks spectacular and it truly is as easy as one, two, three!
If you missed Michael's appearance on the show, he will be back on set to share some exquisite Christmas Designs on Dec. 3rd, 2013, Hallmark Channel's Home and Family Show 10am/9c.