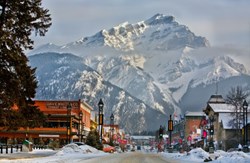 We'll make sure to give them the send-off they deserve.
Banff National Park, Alberta (PRWEB) November 20, 2013
The President of Canada's Olympic Committee, Marcel Aubut, announced in Calgary today that the town of Banff has been chosen to host the send-off party for the nation's Olympic athletes as part of the 2014 Celebration of Excellence.
The Canadian Olympic Team Block Party, hosted by award-winning broadcaster, CBC's George Stroumboulopoulos, host of George Stroumboulopoulos Tonight, will take place on January 11, 2014 in the heart of the scenic mountain town.
"This is wonderful news, I am thrilled that Banff will be sending off our Canadian Olympic Team in style," said Karen Sorensen, Mayor of Banff. "I want to invite Canadians from across the country to make their way to Banff in January to celebrate with our community."
Juno Award-winning bands The Sheepdogs and The Arkells will perform at the send-off party on a stage to be erected on the 200 block of the town's main street, Banff Avenue.
"Like many Canadians, we'll be watching our athletes compete in the Olympic Winter Games in Sochi so we're thrilled to be part of the Banff Block Party next January," said Ewan Currie of the Sheepdogs. "We'll make sure to give them the send-off they deserve."
The Olympic Send-Off Party coincides with Banff National Park's opening weekend of the annual SnowDays Festival which runs from January 10 – February 9. SnowDays celebrates winter with four weeks of events and performances throughout the park and its three ski resorts. The Olympics will be celebrated again in Lake Louise during the popular Ice Magic Festival January 17 – 26 when a cast of internationally-renowned ice carvers will ply their skills under the theme "Freeze Olympic Fever".
"As a mecca for winter adventure and athletics, Banff National Park is a natural fit for a celebration that honours Canada's Olympic hopefuls," said Stu Back of Banff Lake Louise Tourism. "We look forward to wishing our nation's athletes success in Sochi and welcoming Canadians to join the party as a tribute to them."
-30-
About Banff Lake Louise Tourism
Banff Lake Louise is the destination marketing organization for the Town of Banff, Community of Lake Louise and Banff National Park. Supporting over 800 businesses, our mission is to engage visitors in unrivalled, remarkable experiences with our membership. http://www.banfflakelouise.com
For media inquiries, please contact Mary Morrison, Manager, Travel Media Relations at 403.762.0290 or mary(at)banfflakelouise(dot)com.