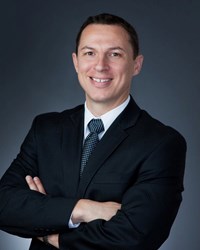 People are learning to understand how the operating culture changes as you become an analytics driven decision making organization.
Conway, NH (PRWEB) November 21, 2013
Rapid Insight Inc. today announced that Michael Dean, Associate Dean and COO of Mercer University School of Law, will be highlighted as the Data Star for the month of November. At a time when Law schools are under tremendous pressures of declining enrollment, Michael has utilized predictive analytics to take a proactive position by utilizing historical information to make predictions about individual applicant matriculation probabilities. The models are used to make decisions to drive the optimal class.
Each month Rapid Insight's Data Star program finds one person who is making a difference within their organization by utilizing data and predictive analytics for data driven decision making. "We've highlighted Michael not only for the quick impact he's had, but mostly for the foundation he's laying for the staff to use data more effectively in most everything they do" noted Ric Pratte, President and COO at Rapid Insight. "He has great vision and it's fantastic to watch it unfold."
As Michael began this journey earlier this year, he focused his team on understanding the primary value of data quality and preparation. Everyone involved now sees how various system outputs needed to be integrated and consistent in order to properly build the models needed. By laying the firm groundwork of staff education and participation, they were able to make great progress on the goals.
Looking ahead, Michael and his team are now exploring the data and discovering the key predictors of what defines for them "good student candidates". These new understandings are providing key insights on making contacts with their best applicants.
Michael has also had an impact beyond the Mercer University School of Law. He is aware of the value of collaboration and has been very open to sharing his journey with his peers. Recently he was a panelist in a Rapid Insight #DataTalk, where he shared his experience on bringing data analytics in-house.
He's also been working with PhD students on using analytics to drive management decisions. Michael has also been reaching out to other sectors to help see the value of analytical tools. Most recently, he has collaborated with several financial services professionals on how they can utilize predictive analytics to provide loans to students of traditionally sub-par credit profiles. By incorporating the value of data, this allows the financial institutions the opportunity to encourage these students but with very low risk and a high success factor.
As Michael says "People are learning to understand how the operating culture changes as you become an analytics driven decision making organization."
To learn more about the Rapid Insight Data Stars, visit http://www.rapidinsightinc.com/datastars.
About Rapid Insight Inc.
Rapid Insight Inc. is a leading provider of predictive analytics software and solutions that provides organizations with the ability to make data-driven decisions. Focusing on speed, efficiency, and usability, Rapid Insight products enable users of any skill level to quickly turn their raw data into actionable information. The company's analytic software platform simplifies the extraction, analysis, reporting, and modeling of data for clients ranging from small businesses to Fortune 500 companies. For more information, visit: http://www.rapidinsightinc.com.