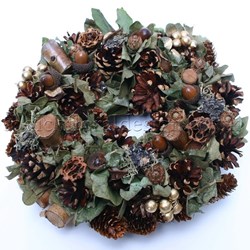 In terms of materials, twigs, nuts, mistletoe, berries, rose hips, ferns, herbs and flowers are additional natural items that can be used, plus things like feathers, lace, pearls, baubles and bows. - Founder Zlatko "Tod" Todich
London (PRWEB UK) 26 November 2013
Although Christmas wreaths are typically made of pine, baubles, cinnamon sticks and bows, there are many different designs to choose from for those who fancy a break with the norm. Here, London florist Todich Floral Design shares its favourite ideas for five alternative Christmas wreath designs incorporating feathers, nuts, herbs, satin and lace.
As a leading floral design company in London, Todich Floral Design loves experimenting with new styles and is always on the lookout for unusual twists on traditional floral fashion and designs. Christmas provides the perfect excuse to get creative as the company starts to install corporate flowers and Christmas decorations at offices, restaurants, hotels and events throughout the capital.
While red, green and gold is the classic colour scheme for Christmas, there are other combinations that can be used to give decorations a fresh and contemporary feel. Purples and deep blues bring a luxurious element to designs, while cool whites, silvers, blues and lilacs set a winter wonderland mood. Pinks mixed with red provide a soft, romantic vibe, and for a really modern look, a monochrome colour scheme is striking and chic.
Owner and founder Zlatko "Tod" Todich comments, "In terms of materials, twigs, nuts, mistletoe, berries, rose hips, ferns, herbs and of course flowers are additional natural items that can be used for Christmas wreaths, plus things like feathers, lace, pearls, crystal drops, and various baubles and bows."
Todich Floral Design's top five ideas for alternative Christmas wreaths:
1) Fantastic feathers: To add a bit of drama and 'wow' factor, use feathers to create a base. Peacock feathers are perfect for this and their striking 'eyes' can be positioned so that nothing else needs to be added. For those who fancy something more, just a few sparkly and mirrored deep green glass baubles would look good.
2) Go nuts: Cinnamon sticks and orange slices are regular features on Christmas wreaths, but why not use an assortment of nuts instead? Acorns, walnuts, chesnuts and brazil nuts work well, but for those who don't fancy an entire wreath made just of these, other materials can be added too, such as pine cones, dried leaves, mini logs and baubles.
3) Vintage satin, pearls & lace: This is super simple to make and a super soft, feminine, vintage design. It's easy to find satin ribbons, lace and string pearls in haberdashery stores, then all else that is needed is a dry oasis base. Starting on the underside, first cover the entire base in ribbon by wrapping it round and pinning in place, then add the lace and pearls, finishing off with a big satin bow.
4) Fragrant flowers and herbs: Incorporating fragrant flowers and herbs such as lavender, rosemary and mint is a great way to recreate the English Country Garden look, and of course provides the wreath with a wonderful scent. Work delicate creamy white wax flower in to the mix and this will add a lovely lemony aroma too.
5) Whimsical winter wonderland: Take an oasis base and fill it with fluffy white gypsophila to create something that immediately conjures images of a snow-covered winter wonderland. This actually looks great just by itself, but to add more interest and a touch of whimsical romance, add dusty lilac amnesia roses dotted evenly around and you have something really pretty and different.
About Todich Floral Design
Todich Floral Design consists of a team of talented designers and florists with many years' experience in the industry and specialises in using its knowledge and expertise to transform clients' floral requests in to unique and innovative designs. The company provides a range of services at Christmas including tree decorating, full Christmas decorations and event flowers for parties and private events.