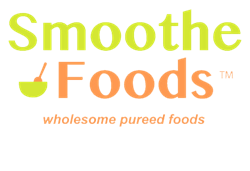 "People think the only options out there for a pureed diet are baby foods, protein shakes, or bland options. We are here to change that!" says Karen Betz, Founder of Smoothe Foods
Huntington, NY (PRWEB) November 22, 2013
According to Alz.org of the Alzheimer's Association, more than 5 million Americans have Alzheimer's Disease, which affects every facet of an individual, including dietary needs. Smoothe Foods, which offers a line of nutritional soft and pureed foods to the elderly, ill, and those with dysphagia and other medical needs, recognizes this astounding statistic in light of National Alzheimer's Disease Awareness Month.
The soft food line emphasizes that forms of dementia aren't just about forgetting dates or misplacing items – it can also be forgetting about life necessities, like needing to eat. And, what's even more concerning is that eating solid foods becomes increasingly difficult for those with conditions like Alzheimer's disease. Signs that one's diet may be in jeopardy include:

Reduced food consumption, or extra effort needing to eat or swallow
Weight loss, dehydration, or malnutrition
Coughing or choking during eating, or gurgly sounds before or after eating
Food or liquid leaking, or getting stuck in one's mouth
Stomach pains
Recurring pneumonia or chest congestion
If loved ones or caretakers notice any of these signs, Smoothe Foods urges them to take their patients to a physician, or an emergency room for more severe cases, for medical advice. Later, steps may need to be taken to include the monitoring of premeasured food to ensure items are being eaten or providing prepackaged foods, like pureed foods, that are nutritional, easy to eat, and require minimal meal preparation.
Smoothe Foods prides itself on its gourmet line of frozen meals that are shipped across the country, which can be heated – and then simply eaten. It offers menu items including spinach lasagna, Asian soy burgers, eggplant ratatouille, tofu la o'range, vegetarian chicken, pasta with tomato and basil, parsnip soup, and more.
"Those with medical issues have little to choose from, which is why we're here to help raise awareness about our brand," said Founder Karen Betz. "People think that the only options out there for a pureed diet are baby foods, protein shakes, or bland options. But, we've worked with accredited chefs and nutritionists to pack items like our egg and asparagus casserole with real food nutrients to ensure a healthy diet, no matter the age range. Ultimately, great-tasting, pureed foods promote the health and esteem of a community of individuals who can no longer eat solid foods."
About Smoothe Foods
Smoothe Foods is a line of soft and pureed menu items that are all natural, nutritious, and great tasting. The company ships nationwide, and focuses on providing gourmet meals that are preservative-free and filler-free to help ensure those with special dietary needs meet and maintain daily dietary allowances.
For more information, visit http://www.smoothefoods.com, or call (631) 424-4005 or email info(at)smoothefoods(dot)com.