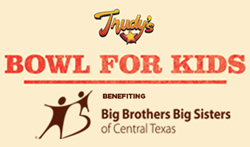 We're so grateful to supporters like Ranch Road who contribute their creative talents to this effort. Once again, they've donated their services to help us reach a larger audience through great design.'- Brent Fields, Big Brothers Big Sisters Central Texas
Austin, TX (PRWEB) November 21, 2013
In support of the Trudy's Bowl for Kids, which aims to raise $175,000 for the Big Brothers Big Sisters of Central Texas, Ranch Road has donated their design skills and created a logo and branding for the event. The annual bowl-a-thon, which will be held the weekend of Friday, February 28 - Sunday, March 2, 2014, will be held at Highland Lanes, 8909 Burnet Road.
"It's been a real privilege to work with Big Brothers Big Sisters of Central Texas the past few years. Our designers look forward to the Bowl for Kids corporate branding project each year," said Tanner Shepard, Co-Founder, Co-Owner of Ranch Road.
"Big Brothers Big Sisters is looking forward to embarking on our third decade of this fun-filled event, which helps support so many kids in our community," said Brent Fields, CEO, Big Brothers Big Sisters of Central Texas. "The best part of Bowl For Kids is that it is so easy for anyone and everyone to contribute. Bowl For Kids is also the perfect vehicle for corporate philanthropy and team building. We're so grateful to supporters like Ranch Road who contribute their creative talents to this effort. Once again, they've donated their services to help us reach a larger audience through great design."
This isn't the first time Ranch Road has donated to the organization. Over the past several years, Ranch Road has provided branding campaign services and logo design for the event, which has raised millions of dollars for the children of Central Texas across the past 30 years.
"Mentoring can change the trajectory of a child's life," Fields stated. "The local support that comes from Trudy's Bowl for Kids ensures we can continue serving more than 1,000 kids each year – and put them on the path to lifelong success."
For individuals or teams interested in participating, registration is open at BowlForKidsAustin.org. Bowling times will be held in 2-hour slots between the following times on each day: Friday, 2/28: 3:30 p.m. – 10:30 p.m.; Saturday, 3/1: 1 p.m. – 10:30 p.m.; Sunday, 3/2: 1 p.m. – 8 p.m. The event is being sponsored by Trudy's, KVUE, 92.5 ESPN Deportes, 104.9 The Horn, Highland Lanes, and Ranch Road.
About Big Brothers Big Sisters:
Big Brothers Big Sisters serves more than 1,000 children in Travis, Williamson, Hays and Bell counties every day. For more than 40 years, we have matched children, ages 6–16, with supportive adult mentors who build friendships and offer encouragement and support to each child. The organization depends on donations to help recruit volunteers and reach more children. The Central Texas agency is ranked in the top five percent nationally for program quality. Most impressively, last year more than 99 percent of the children served by BBBS remained in school while 97 percent of them improved or maintained their grades.
About Ranch Road:
Ranch Road is an eco-friendly digital printing and marketing company based in Austin, TX that specializes in printing, branding, graphic design and promotional products. They were named one of the Fastest Growing Businesses in Central Texas by the Austin Business Journal. To learn more about Ranch Road, call them at (512) 719-9999 or email them at info (at) RanchRoad (dot) com.