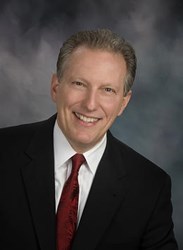 These images allow us an extreme close-up of the retina. -- Dr. Steven Schoenbart
Garden City, NY (PRWEB) November 25, 2013
For Dr. Steven Schoenbart, the month of November 2013 marks 25 years in the eye care industry and 5 years at his current office -- and he's looking to celebrate with everyone.
Starting now and until December 31, 2013, any patient (whether new or established) who walks into Schoenbart Vision Care and gives Dr. Schoenbart the "high five" hand salute will get 5 percent off the purchase of Tom Ford, Oliver Peoples and Tag Heuer eyeglass frames.
"It's hard to believe we have been here for five years now," said Dr. Schoenbart about relocating his practice to 901 Stewart Avenue in Garden City, New York in November of 2008. "At that time I wanted another location so I could expand my practice. This office was within minutes of our older location and is close to most highways. Our new location offers more parking spaces for my patients. It has worked out well for the practice and I'm thankful for that."
Dr. Schoenbart is extensively trained in treating eye disease with therapeutic pharmaceuticals, telescopic lenses and has been certified in Low Vision rehabilitative optometry for the past 25 years.
Among the newest techniques available at Schoenbart Vision Care is the Heidelberg Spectralis OCT (Optical Coherence Tomography), a state-of-the-art, non-invasive test that uses light waves to photograph the retina. "These images allow us an extreme close-up of the retina, and makes it possible to detect early diagnosis of problems such as Age Related Macular Degeneration, Glaucoma and Diabetic eye disease among others," said Dr. Schoenbart.
To make an appointment or get information about Schoenbart Vision Care call 516-794-0704 or visit http://www.schoenbartvisioncare.com.
About Dr. Schoenbart: a graduate of Boston's New England College of Optometry, he completed a residency at the Northport VA Medical Center, Northport, NY in Rehabilitative Optometry (Low Vision). He has sat as a board examiner for North East Region Clinical Optometric Assessment Testing Service (NERCOATS). Dr. Schoenbart was selected to represent optometry in NYS on Governor George Pataki's Medical Advisory Board for the Department of Motor Vehicles from 1996 -1998 and through 2012. Dr. Schoenbart has served as a board member of the Nassau County Optometric Society from 1992-2006 and was the Nassau County Optometric Society President from 1996-1998. Dr. Schoenbart has been the NYS Optometric Society Spokesperson since 2010.
Dr. Schoenbart is NYS Certified in Low Vision-Rehabilitative Optometry to help patients who have decreased vision due to eye diseases like Glaucoma, Macular Degeneration, Optic Atrophy, and post-cataract surgery as well as post-stroke patients. He is a member of the International Academy of Low Vision Specialists (IALVS).