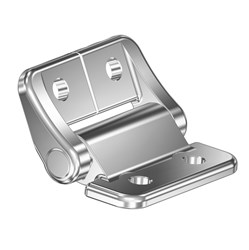 A reduced weight of more than 50% compared to a zinc or steel hinge, leads to savings that add up quickly...
Saint Paul, MN (PRWEB) November 26, 2013
Reell Precision Manufacturing, a world leader in small package position control, is proud to introduce the PHCA positioning hinge, an aluminum version of it's popular PHC positioning hinge line.
At only 19.5 grams, the PHCA is ideal for aircraft and other transportation applications where weight is an important concern. Featuring patented ReellTorq® clip technology, the PHCA has the same smooth feel and consistent long-life performance that are the hallmark of all Reell positioning products.
The PHCA features a conventional door hinge configuration with 270° of rotation, and is available with torques up to 2.79 N-m (24.7 lb-in).
Global Product Line Manager John Schannach is excited about the opportunities for transportation applications. "When every gram is counted against millions of miles traveled, simple calculations can convert fuel prices into significant cost savings. The PHCA hinge weight is reduced by more than 50% compared to a zinc or steel hinge of same footprint, which leads to savings that add up quickly."
The PHCA hinge is available starting in early December 2013. Please contact your Reell representative for more information or to request a sample.
Reell Precision Manufacturing provides high-quality innovative solutions to transmit torque, control angular position and protect delicate components from excessive force. Combining the world's most precisely controlled torque technology with the industry's most experienced engineering team guarantees a perfect product fit for your application. With facilities on three continents, Reell's responsive global customer service and world class manufacturing ensures exceptionally easy ordering and on-time delivery.
Follow Reell on Twitter: @reell