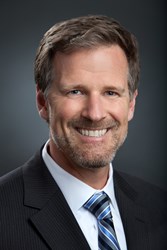 Dominic's experience with regional agencies will further enhance our insight and expertise as we meet the evolving transportation needs of our clients and their customers in the Bay Area.
San Francisco, CA (PRWEB) November 20, 2013
HNTB Corporation, a national infrastructure solutions firm with three offices in the Bay Area, is expanding its transit and rail practice in Northern California to meet the demands of the region. Dominic Spaethling joins the firm's San Francisco office as rail-transit market sector leader for the region, bringing more than two decades of transportation industry experience in planning, implementation and environmental evaluation, having served with several other transit agencies.
Last year Bay Area Rapid Transit reported a 6.7 percent increase in ridership. According to a recent national HNTB America THINKS survey, 3 in 4 Americans would be willing to take public transportation instead of driving.
"HNTB is a leader in rail and transit infrastructure, having worked on some of the most complex projects in the nation," said Darlene K. Gee, PE, vice president and HNTB Northern California office leader. "Dominic's experience with regional agencies will further enhance our insight and expertise as we meet the evolving transportation needs of our clients and their customers in the Bay Area."
In his most recent role as vice president at Parsons Brinckerhoff, Spaethling managed various rail projects with many agencies, including the California High-Speed Rail Authority, Caltrain, Capitol Corridor and the Caltrans Division of Rail. He also formerly served as a planning manager for Amtrak in Oakland, Calif.
An accomplished speaker and writer, Spaethling often is called on to present at industry events and conferences. He most recently co-authored "Integrating High-Speed Rail into an Existing Intermodal Station: Designing for a Seamless Passenger Experience" for the American Public Transportation Association.
Spaethling holds a master's degree in city planning and a certificate of transportation and infrastructure planning from the University of Pennsylvania. He also earned a Bachelor of Arts, international relations, from Brown University and a certificate in innovative finance from the Federal Highway Administration. Spaethling is a member of the Transportation Research Board and the Passenger Rail Committee.
With offices in Oakland, San Francisco, and San Jose, HNTB has a long history in Northern California, having worked on a number of high-profile infrastructure projects, including the BART Warm Springs Extension, design of the San Francisco International Airport Control Tower, San Francisco 49ers' Stadium, and the design and construction of San Francisco's first public-private partnership, Presidio Parkway-Doyle Drive Replacement. ENR California recently named HNTB's work on the University of California Berkeley Memorial Stadium as Best Project in the Sports/Entertainment category. Architectural Record ranked the firm as Top Design Firm by total value of arena and stadium construction starts from January 2012 through June 2013, and the San Francisco 49ers' Levi's Stadium as top stadium project in the nation.
About HNTB
HNTB's work in California dates back to its founding in 1914. Today HNTB continues to grow in size and service offerings to clients in California from eight office locations, currently employing more than 350 full-time professionals. HNTB understands the life cycle of infrastructure and addresses clients' most complex technical, financial and operational challenges. Professionals nationwide deliver a full range of infrastructure-related services, including award-winning planning, design, program delivery and construction management. For more information, visit http://www.hntb.com.