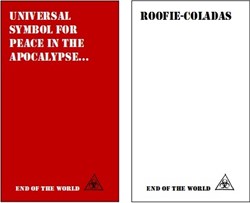 This game will make you shed your tears of laughter by using everything from "Vicious Indian Burns" to "Twerking."
Portland, OR (PRWEB) November 25, 2013
Unlike trying to survive a legit apocalypse, the End of the World Card Game is pretty simple. Each round, a round leader reads a survival scenario from a red "Survival" card, and the other players answer with their best white card. In the game they're referred to as "Provision" cards. Oh and be warned, the Provision cards are full of humor, crass, and ridiculousness.
The game's launch edition is based on the "Zombie Apocalypse." The survival scenarios created for the game are designed to match perfectly with the over-the-top Provision cards.
The Apocalyptic Games team chose Kickstarter to obtain crowd funding for their initial printing run of professionally boxed sets. Kickstarter backers can get the core set of cards as well as 10 extra Survival Cards and 30 extra Provision Cards, written exclusively for backers.
The printed cards are 2.5" x 3.5", professionally produced and digitally cut. Each set contains 560 cards. 110 Survival Cards and 450 Provision Cards (including the 40 exclusive cards).
The campaign can be found on the Kickstarter site and at the link below. Apocalyptic Games is also on Facebook and on Twitter.
Kickstarter Launch - End of the World Card Game
You can also check out all the game details, read the rules, and even see the cards for free on the game's website: http://www.endoftheworldcardgame.com