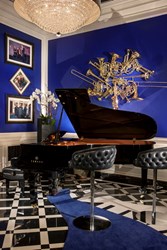 "The Disklavier not only sounds great, but offers technology that represents the evolution in how music will be played and enjoyed in the home," said Lisa Turner of Interior Obsession. "Like Stevie, this instrument is pushing boundaries."
Beverly Hills, Calif. (PRWEB) November 22, 2013
Yamaha today announced that its Disklavier DC6XE3PRO performance-reproducing piano has been selected for placement in the "Titans of Business and The Best of Design" show house at the historic Greystone Mansion. The elegant 7-foot instrument, which can play itself via pre-recorded content and performances from remote locations over the Internet, was chosen as part of the Stevie Wonder-inspired "Music Room" conceptualized by star designer Lisa Turner of Interior Obsession. The show house is open through November 24.
Produced by Design House International (DHI), City of Beverly Hills and Friends of Greystone Mansion, the "Titans of Business and The Best of Design" show house project presents a series of interiors created by the country's most acclaimed designers that were inspired by either their high-powered clients or other acclaimed business leaders.
By DHI's definition, a "titan" is "a leader who is respected within his/her industry, and can be characterized as a visionary who is powerful, creative and industrious." One of the most celebrated and prominent figures in popular music, singer, songwriter, musician and producer Stevie Wonder is equally known for his global humanitarian efforts, philanthropic leadership and generosity of spirit. His classic and timeless musical contributions have earned Oscar, Golden Globe and multiple Grammy Awards.
According to Yamaha, the Disklavier DC6XE3PRO combines the unrivalled touch, tone, elegance and style of traditional Yamaha acoustic pianos with cutting edge digital piano features. For instance, musicians can connect a camcorder to the instrument to record video of their own performances that can be viewed on demand in perfect sync with the piano playing their exact keystrokes and pedal movements. Also, a free iOS Disklavier Controller app enables operation of many of the models' basic functions (volume, song playback start and stop, music media selection, DisklavierRadio™, etc.) to be operated from an iPhone, iPad or iPod Touch. For this presentation, the instrument will be playing a steady stream of Stevie Wonder's greatest hits.
"Stevie Wonder is iconic in the entertainment world, and in our culture in general, for his artistic voice and the way he helped shape the path of popular music. He insisted that a Yamaha piano be included in this room designed in his honor," said Lisa Turner of Interior Obsession. "The Disklavier not only sounds great, but offers technology that represents the evolution in how music will be played and enjoyed in the home. Like Stevie, this instrument is pushing boundaries."
The Disklavier DC6XE3PRO also features DisklavierTV™ powered by RemoteLive™ technology, which enables a performer to play a Disklavier in one location and have that performance recreated note for note on remote Disklaviers in locations around the world simultaneously.
Additional interiors within the mansion reflect the individual styles of the likes of John Jacob Astor, Jim Henson, Julia Child, Coco Chanel, Halston and William Randolph Hearst, as well as others who represent business leadership in entertainment, import/export, wine, new media, silicon valley, manufacturing, fashion, finance and real estate areas.
"This truly eye-popping event represents the last word in style and elegance from the view of visionaries and forward-thinkers. We feel our Disklavier reflects this approach to the piano," said Jim Levesque, Yamaha's Disklavier marketing manager. "Not only do we recognize the musical genius of Stevie Wonder, we have the pleasure of seeing him from time to time at music industry shows and events. We've always appreciated his interest and enthusiasm for Yamaha."
Greystone Mansion, located at 905 Loma Vista Drive in Beverly Hills, is one of the few nationally registered historic landmarks in California and has been the backdrop for countless movies and TV shows including X-Men, Spider-Man, There Will Be Blood, Dark Shadows, The Big Lebowski, The Gilmore Girls and the Bodyguard.
The Titans of Business and The Best of Design is open to the public on Thursdays through Sundays, 10:00am to 3:00pm, through November 24.
For more information about Yamaha DisklavierTV, please visit http://4wrd.it/DISKLAVIERSITE.
For more information about the Titans of Business and The Best of Design, please visit http://designhouseinternational.com/tickets/.
About Yamaha
Yamaha Corporation of America (YCA) is one of the largest subsidiaries of Yamaha Corporation, Japan and offers a full line of award-winning musical instruments, sound reinforcement and home entertainment products to the U.S. market. Products include: Yamaha acoustic, digital and hybrid pianos, portable keyboards, guitars, acoustic and electronic drums, band and orchestral instruments, marching percussion products, synthesizers, professional digital and analog audio equipment, Steinberg recording products and Nexo commercial audio products, as well as AV receivers, amplifiers, Blu-ray/CD players, iPod docking systems, home-theater-in-a-box systems and its exclusive line of Digital Sound Projectors. YCA markets innovative, finely crafted technology and entertainment products and musical instruments targeted to the hobbyist, education, worship, professional music, installation and consumer markets.
About Interior Obsession
Interior Obsession is a full-service design boutique, specializing in high-end residential and commercial interiors. A creative soul, founder and principal designer Lisa Turner finds inspiration both in her travels and in everyday surroundings. Lisa's firm has been achieving a balance of bold yet attainable design for over two decades.
Interior Obsession's client roster, as diverse as it is impressive, includes prominent business leaders and A-List celebrities Stevie Wonder, Pauletta and Denzel Washington, Motown Records, Spike Lee, Jill Scott and Jimmy Jam & Terry Lewis to name a few. Lisa is an Allied Member of the American Society of Interior Designers (ASID). For more information or to view the firm's eclectic portfolio, visit http://www.interiorobsession.com.