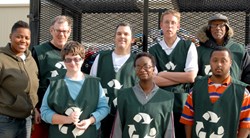 Elkridge, MD (PRWEB) December 02, 2013
Planet Aid is partnering with the Chesapeake Center, Inc. in Easton, MD. Servicing the Maryland mid-shore area, Chesapeake Center supports the wellness and independence of adults with developmental disabilities. Planet Aid will support the Center with proceeds from donations received in the on-site bin.
Abdi Erazouki, Planet Aid's Relationship Manager said, "We are pleased to support Chesapeake Center. They have been a vital asset to the region for many years and offer a wide variety of resources. Planet Aid is proud of this new venture, and of helping to support the local community."
Planet Aid's mission elements - to protect the environment and reduce waste; to strengthen and organize communities; improve access to training and quality education; and to increase health awareness and encourage healthy lifestyles - are closely aligned with those of Chesapeake Center. The partner Planet Aid seeks is committed to our principles of equality and self-determination, and creating lasting positive change.
Chesapeake Center, Inc., was founded in 1967 by a group of concerned parents, desperate to find meaningful opportunities for their adult children with disabilities. As a not for profit agency, Chesapeake Center provides vocational training through on the job training, adult day care programs, meals, fitness programs, health screenings, medical appointment transportation, and socialization services. The Center also offers a group home option. For more information, visit chesapeakecenter.org.
Headquartered in Elkridge, MD, and with offices nationwide, Planet Aid is a nonprofit organization whose mission is to inform, mobilize and inspire individuals and communities to work together to bring about worldwide environmental and social progress. Incorporated under the laws of Massachusetts and recognized as a tax-exempt charity under IRS code 501(c)(3), For more information on Planet Aid, visit Planetaid.org.