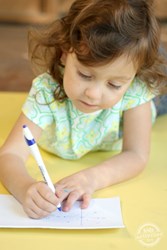 Let the kids make homemade cards to family and friends this season.
Dallas, TX (PRWEB) November 29, 2013
In need of amazing Christmas cards this season? A cute card making gift kit and adorable woodland animal coloring pages have been published on Kids Activities Blog. Get ready for easy to do crafts with a purpose this holiday season.
The card making kit is perfect for any creative coloring enthusiast. He or she will love to create designs on foam sheets that will turn any card into keepsake masterpieces. Making cards to someone special will delight him or her.
Supplies needed to make the adorable card making kit are foam sheets, a ball point pen, cards and envelopes with stamps, bright color paint, and a sponge. The flowery pen is an optional sweet accessory.
Let the kids begin by drawing a design onto the foam sheet by pressing very hard with the ballpoint pen. The kids should be able to feel the pressed in design with their fingers after they are finished drawing on the foam sheet.
Lightly cover the foam sheet with paint using the sponge. Carefully lay down the card on the foam sheet and press gently to ensure that the paint transfers to the card. Then let the kids lift the card and watch their amazement when they observe their masterpiece.
The kids can then make dozens of cards by using the same foam sheet. This card kit is perfect for making sets of kid make Christmas cards for family and friends.
The woodland animal coloring pages can double as dinner placemats, napkin rings, and place cards. The designs are simple enough to use anything but crayons or makers to color the page.
Creative tips to fill out the design include using tissue paper scraps, glitter glue, or simply fill in the design with small items gathered in the yard. These items can include leaves, twigs, acorns, and pebbles.
The coloring set design includes a cute fox, a sweet bear cub, an adorable moose, and a playful raccoon. Let the kids imagination roar with these cute animal themed coloring pages.
For detailed instructions and to get additional fun creative ideas, check out Kids Activities Blog this week. Come get inspired to let the kids have a blast this holiday season.
About Kids Activities Blog
Kids Activities Blog is a website created by two moms (who collectively have 9 children), Rachel Miller and Holly Homer from June Cleaver Nirvana. It is their daily goal to inspire parents and teachers to play with kids. This interactive website publishes simple things to do with kids twice a day. Kids Activities Blog is a great tool for moms and teachers to find kid-friendly activities that create memories and sneak learning into the fun.