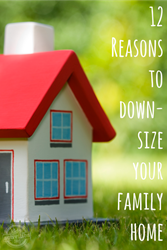 Downsizing the home can add quality family time.
Dallas, Texas (PRWEB) November 25, 2013
Creating family memories on a budget has inspired the latest buzz on Kids Activities Blog. Seasoned Moms are sharing reasons to downsize the family home together with learning Lego games this week on Kids Activities Blog.
Downsizing out of necessity has become a frequent theme in the recent economy. Foreclosure and recent loan developments have made that decision for many families. Yet, downsizing can be a actually a positive thing for families, too.
Downsizing, no matter what the reason, has its advantages. Having a lower mortgage payment, lower maintenance and repair bills, lower utility bills, and less money to spend on insurance are only a few of the tangible rewards.
Yet, having more time because of less housework, less yard work, and less stuff to manage can be rewarding for family togetherness, too. The downsizing can actually increase family time and help to acquire less because there will is enough already from moving into a smaller dwelling. Less room means less stuff to manage.
Helping families to manage their budget by downsizing can be beneficial for the whole family. Get a competent investment advisor, real estate agent, or insurance agent to help create the new family dwelling that will be benefit the entire family.
Legos are so much fun but what makes them even better is learning with them by playing games. These great boredom busters are great even to do at a kids party. Combine reading with Lego play by writing colors on index cards and sorting the Legos by the color the kid's read.
Build a simple Lego structure, take a picture of it, and give the picture to the kids asking them to reconstruct the same structure. Another great idea is building a classic game board out of Legos.
Having a Lego tower building contest is a classic among many households. Have a competition among the kids trying to build the tallest tower as fast as possible. The winner will be tower that does not tip over.
Learning sight words with Legos is another great idea. Simply write the sight word on masking tape and stick the words to the side of the bricks. The ideas are endless.
For detailed instructions and to get links to helpful tips, check out Kids Activities Blog this week. Come get inspired to make life a bit better this season with tips from seasoned Moms.
About Kids Activities Blog
Kids Activities Blog is a website created by two moms (who collectively have 9 children), Rachel Miller and Holly Homer from June Cleaver Nirvana. It is their daily goal to inspire parents and teachers to play with kids. This interactive website publishes simple things to do with kids twice a day. Kids Activities Blog is a great tool for moms and teachers to find kid-friendly activities that create memories and sneak learning into the fun.