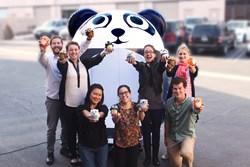 Westlaske Village, Calif. (PRWEB) November 21, 2013
Accessory Power, a consumer electronics company in Los Angeles, is excited to announce their biggest CES presence to date. Drawing attention to new products, giveaways, and the brand ambassador TabletMan, Accessory Power plans to dive head first into the 2014 Consumer Electronics Show (CES) in Las Vegas with their largest booth ever.
Accessory Power continues a powerful promotions campaign with their recent GOgroove ads and CES is no exception. Located in South Hall Booth #31665, the company will display a large 30 x 30 booth equipped with a giant inflatable Groove Pal Panda 20 feet high in the air. The company's brand ambassador, TabletMan, will make his third appearance at this year's CES. Dressed in all black and equipped with a dozen plus tablets attached to his body, TabletMan has been an instant hit at CES and other consumer electronic conventions.
Paired with a new look and campaign, Accessory Power plans to debut a number of different products, specifically from the GOgroove and ENHANCE product lines. GOgroove will introduce a variety of products equipped with more power and better technology, including the BlueSYNC XPL and BlueSYNC TYM. The GOgroove BlueSYNC XPL is the most powerful speaker Accessory Power has ever offered. With Bluetooth capabilities, two sub-woofers, and easy access equalizer, the BlueSYNC XPL gives the customer the flexibility of in-home Bluetooth sound while providing an enhanced audio experience. In addition, the GOgroove BlueSYNC TYM Bluetooth Speaker and Alarm Clock introduces NFC (Near Field Communication), allowing NFC enabled devices to connect by simply tapping together. With a LED display, dark grain wood finish, and powerful sound, the BlueSYNC TYM compliments a new range of home decoration.
Marking the first effort for the brand, ENHANCE takes on the gaming world with the introduction of the ENHANCE GX-M1 Gaming Mouse and GX-H1 Gaming Headset. The ENHANCE GX-M1 Gaming Mouse is equipped with plug and play design, 65-inch woven nylon cable and LED "switchboard" lighting style to provide stimulating functionality to the gaming experience. The ENHANCE GX-H1 Gaming Headset comes equipped with detachable microphone, 87 inch cable and in-line controls to add convenience to even the most intense gaming sessions.
Accessory Power will introduce these items and more at the 2014 Consumer Electronics Show in Las Vegas. These products will be available for purchase in the early months to come. For further information about Accessory Power, visit http://www.accessorypower.com.
###
Accessory Power is an American-based manufacturing and distribution company, with offices in Los Angeles, Hong Kong and China. Since 1980, Accessory Power has been dedicated to manufacturing quality consumer electronic accessories. An important distinction that divides our company is an unrelenting commitment to quality in each step of a product's life. Every Accessory Power product is backed by an industry-leading three-year warranty.