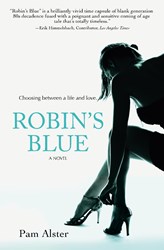 "Robin's Blue is a brilliantly vivid time capsule of blank generation 80's decadence fused with a poignant and sensitive coming of age tale that's totally timeless." Erik Himmelsback, Contributor, Los Angeles Times
Los Angeles, CA (PRWEB) November 22, 2013
Robin's Blue by Pam Alster was named a finalist in the Chick Lit/Women's Literature category of The USA Best Book Awards for 2013, sponsored by USA Book News. Blue is also named finalist in the Literary Fiction Category of The Kindle Book Review Awards for 2013.
#1 Amazon Bestseller Contemporary Coming of Age Fiction
http://www.amazon.com/gp/product/B009WCFIP4
The music was loud, dancing was under the disco ball, drugs were plentiful and sex rampant -- it was the 80's and life was one big party. Until AIDS, addiction and denial forced a generation to take a sobering look at their lifestyle and evolve into a generation intent on saving everyone through therapy and self-help groups.
Pam Alster, author of the new book Robin's Blue, immerses readers into the life of a teen run-away during the 1980's as she unapologetically looks for the answers to love and happiness through drugs, men, and a series of jobs that leave her choosing between life and love.
Robin's Blue is a page-turning epic set against the disco 70's through the Reagan-era 80's, when divorce was the norm and casual sex and recreational drugs were ubiquitous. Robin Daniels, a runaway from a violent and emotionally desolate upper middle-class home, repeatedly navigates her world without guidance. After a failed marriage, she discounts love as an option and moves through a series of jobs and men. A futile attempt to live as a kept woman compels her to become a high-class call girl. She searches unsuccessfully through the resulting transient experiences and escalating drug use for the one lesson that will resolve her omnipresent question of purpose.
Before AIDS and addiction became household words, Robin's Blue speaks to a generation that basically raised itself. Robin's journey takes her from suburban Philadelphia and Miami to the South of France, ultimately dropping her in New York City where she is obliged to make peace with the girl inside she left dormant at sixteen.
Pam Alster studied Master Fiction Writing at UCLA under the tutelage of the great late Les Plesko and is a former television writer who created the ABC/Lifetime TV show Girl Club. She wrote and performed the critically-acclaimed plays Shop Bloomingdales, Find Mother and Millennium's Eve, both workshopped and staged in Los Angeles at the HBO Workspace, Hudson and Black Box Theaters. A former stand-up comedian, Alster performed with Gotham City Improv in New York City and is currently a contributing blogger to 85broads.com and BlogHer.com. She lives in L.A. with her patient husband, old-soul daughter, newborn baby girl, and two well-fed mutts. Robin's Blue is her first novel.
Contact: Pam Alster
213-444-3540
Twitter @plexigirl
Robin's Blue
by Pam Alster
Website: http://www.pamalster.com
Robin's Blue is available in Paperback and Kindle versions at http://www.amazon.com
*Review Copies Available Upon Request