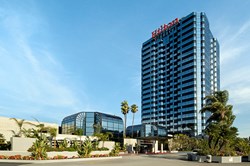 "We applaud the Hilton Los Angeles/Universal City as leaders in energy efficiency and for demonstrating a strong commitment to sustainability," says David Gabrielson, PACENow's Executive Director.
Pleasantville, NY (PRWEB) November 25, 2013
In Los Angeles County, Property Assessed Clean Energy (PACE) financing is available to commercial, industrial and multi-family property owners to pay for building improvements that save energy or create renewable energy onsite. The Hilton Los Angeles/Universal City took advantage of this fixed rate, 100% financing to fund $7 million worth of sustainable upgrades. The Hilton project is the largest commercial PACE project in the US, over twice the size of two projects completed this past year at just over $3 million each.
The Hilton project will result in an annual energy savings of $800,000 and water savings of $28,000, conserving more than 2.8 million gallons of water. This comprehensive retrofit includes energy efficiency glass installations and new LED lighting, which is expected to reduce energy consumption by 50 percent. Additionally, 500 low-flow shower heads will be installed and 250 bathtubs with showers replaced as part of the water conservation upgrade to save the equivalent to one month of the property's existing water usage. Moreover, older HVAC systems were replaced with new energy efficient ones.
"PACE is the only funding mechanism that is credible in providing verifiable information to our investors, and therefore is the ideal tool for us to move forward in becoming the gold standard in sustainable hotels," said Mark Davis, Hilton Los Angeles/Universal City General Manager. "In our commitment to living sustainably, Hilton Worldwide is excited to transform the Hilton Los Angeles/Universal City into a green destination for our visitors."
LA County's Commercial PACE program provides property owners with no-cost assistance from professional project developers which results in successful completion of large and comprehensive projects. The development team is led by sustainability firm ReNewAll, which leverages its industry roots for the program, and navigated the Hilton Los Angeles/Universal City team through the project's development, PACE financing, and closing. The project was sourced, via ReNewAll, by the LA County chapter of the National Electrical Contractor's Association in conjunction with the LA chapter of the US Green Building Council.
Structured Finance Associates, LLC, which specializes in PACE project financing, arranged funding for the project. With PACE, Structured Finance Associates is empowering customers to reduce their operating expenses, increase their cash flow and add value to their properties while decreasing energy usage and lowering their carbon footprint. Founded in 2010, Structured Finance Associates, has offices in San Diego, Los Angeles, Connecticut and Washington, DC and has worked with customers across the country.
"The Universal City Hilton PACE transaction is further proof of the immense value of PACE financing for the commercial real estate industry. We're thrilled to be able to help properties like the Hilton reduce their operating expenses, increase cash flow and add value all while simultaneously protecting the environment," adds L. Jean Dunn, Jr., Managing Director and Founder of Structured Finance Associates.
To date, four percent of all commercial PACE projects involved hotel properties, while office, government, and retail properties account for the majority of PACE financed projects. The Hilton deal once again proves the versatility of PACE financing – it has been used to fund projects from $9,000 to $7 million on properties ranging from agricultural to big box retail.
"We applaud the Hilton Los Angeles/Universal City as leaders in energy efficiency and for demonstrating a strong commitment to sustainability," says David Gabrielson, PACENow's Executive Director. "PACE has now been used by nearly 200 building owners in eight states and the District of Columbia, proving that it overcomes barriers that have kept building owners from doing extensive efficiency, renewable energy, and water conservation upgrades. PACENow expects to see as many as 40 programs running throughout the U.S. within a year."
LA County's PACE program has built a robust funding platform that benefits commercial, industrial, and multi-family property owners in the county by providing building owners with the flexibility to choose their own PACE project funder and negotiate the rate and terms. Unlike traditional construction or equipment loans, PACE can extend repayment for up to 20 years and, like other property taxes and assessments, is not paid off upon sale. These features can make more projects immediately cash flow positive, which makes buildings more valuable. The Los Angeles County PACE program developers assist building owners in finding the most effective mix of improvements that would result in energy savings and make a project cash flow positive from day one. Eligible improvements include: heating, ventilation, and air conditioning, solar PV, fuel cells, occupancy and day-lighting sensors, building envelope, high efficiency lighting fixtures and other improvements that increase building value.
LA County reports over $36 million worth of projects in the pipeline and 39 existing PACE financing applications.
PACENow is supporting and contributing to the efforts of the many groups and organizations that are making PACE an efficient and effective tool for implementing energy efficiency and renewable energy upgrades to buildings. Energy efficiency retrofits represent a spectacular investment opportunity. A $279 billion investment in commercial, residential, and institutional segments could save $1 trillion over a decade, according to the Rockefeller Foundation study. Moreover, the ACEEE's estimates show that energy efficiency improvements tend to result in the average return on investment of 22 percent.
PACENow is tracking industry's progress and makes the data publicly available on its website.
Submitted by: PACENow