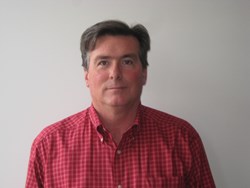 'Our growth this year has been the best ever, and I look forward to contributing to even more impressive growth in 2014 and beyond.' - Todd Harrington, new Brivo RSM
Bethesda, Maryland (PRWEB) November 20, 2013
Brivo Systems LLC, leader in cloud applications for security management, today announced the appointment of Todd Harrington as the new Regional Sales Manager for the Mid-Atlantic territory, as well as for key federal accounts. Harrington assumed his new responsibilities on November 18.
"Todd has done an outstanding job helping Brivo move forward on several key initiatives in his current position as Program Manager for Federal Government," said Mike Taylor, Senior Director of Sales. "Todd's excellent sales, customer service and federal account management experience make him very well suited for this important territory and for our expanding federal market."
Harrington was instrumental in Brivo's recent success in gaining approval as a fully-compliant FICAM solution by the General Services Administration (GSA). The approval means Brivo's ACS OnSite Aparato® along with HID Global pivCLASS readers and certificate validation software are one of the first such solutions to meet the rigorous testing requirements of the newly-realigned GSA Approved Product List (APL).
Brivo maintains a full complement of Regional Sales Managers divided into seven territories covering the US and Canada. Harrington commented on his new role, "I know the Brivo offering and our multiple advantages very well. I am excited to be taking on an expanded role in an important sales territory, including this priority federal market. Our growth this year has been the best ever, and I look forward to contributing to even more impressive growth in 2014 and beyond."
For more information on Brivo Systems, contact Brivo toll–free at 866.692.7486 or email sales(at)brivo(dot)com.
About Brivo Systems
Brivo Systems LLC is a SaaS-based security management systems provider for organizations that need to protect and remotely monitor buildings and perimeter entry points. When introduced in 2001, Brivo's Web-hosted physical access control system was a unique solution—after a decade of evolution and innovation, it still is. Brivo's groundbreaking physical access control and video solutions empower organizations by giving administrators real-time device control, including immediate visibility of security events and video in local or remote facilities—anytime, anywhere.
The company's innovative, secure, and open architecture-based products and services enable businesses to protect people and assets, comply with regulations, and improve business operational efficiency. These scalable systems—whether standalone or appliance-based or cloud-based—offer a solution for every type of business. Brivo's security management products are a market-proven fit for commercial office buildings, warehouses, retail stores, manufacturing plants, and sensitive areas, such as server rooms or R&D labs, where real-time control and accountability of entry are important.
With headquarters in Bethesda, MD, Brivo is a wholly-owned subsidiary of The Duchossois Group, a privately held holding company headquartered in Elmhurst, Illinois, which also owns other industry leaders such as AMX, The Chamberlain Group, and Milestone AV Technologies. Duchossois also holds strategic interests in Churchill Downs, Inc., and a number of other diversified businesses.
For Media queries:
Bruce J. Doneff
Public Relations
(843) 476.3022
bruce.doneff(at)brivo(dot)com
For Brivo Systems, please contact:
Rajeev Dubey
Senior Director, Marketing
301.664.5251
rajeev.dubey(at)brivo(dot)com
###