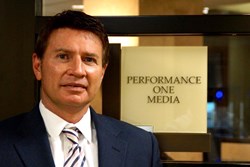 (PRWEB) November 22, 2013
Rob Sigg, President of Performance One Media, is pleased to announce the launch of his all new Meet Up, called "Rob Sigg's Media Solutions Group." With a focus on creating new ideas, other marketers, business owners, and entrepreneurs, are encouraged to attend and join this new marketing group formed in Aurora, Colorado. Rob Sigg has years of experience, marketing, and advertising, with a variety of brands and companies.
About Rob Sigg
Rob Sigg has over 23 years of advertising, marketing and television media experience. Currently the President of Performance One Media, he leads his team of media experts to consistently find new and innovative methods of driving new business while maintaining unprecedented standards to bolster responses for existing clients.
Before launching P-One, Mr. Sigg spent over 8 years with Turner Media Group, which he helped launch from its inception. As President of TMG, Rob's natural execution-oriented style made for huge growth when he took them from a 3-man media agency to a 100+ employee power-broker within the media landscape. He pioneered, and was instrumental in, the development of TMG as the exclusive rep-firm for all media sales through Dish Networks. At its height, after bringing them to a revenue growth of 250MM, Rob made his exit in 2004.
In the years prior to TMG, Rob utilized his true entrepreneurial spirit and his insight to recognize how 'all-the-pieces-fit-together' to own and operate a number of businesses in the real estate, construction, spa and salon disciplines.