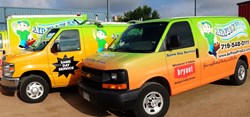 Colorado Springs, CO (PRWEB) November 21, 2013
There was much to celebrate for the Colorado Springs HVAC company, which was featured on a local news segment in June and participated in various Colorado home shows throughout the year. Since last year, the company has prepared dozens of Colorado homes for cold Rocky Mountain winters, hot, dry Colorado summers and everything in between.
After just a year, the company has quickly established a reputation for providing the best heating and air conditioning Colorado Springs has to offer.
Colorado residents say Airflows Pros is the best choice for air conditioning and heating Colorado Springs homes because they provide the latest and most efficient HVAC systems and products on the market – all while remaining active and engaged in the communities they serve
This month, the company is letting locals know that when it comes to HVAC Colorado Springs residents choose Airflow Pros for professionalism and excellent customer service – which includes 24/7 emergency services, free estimates, and a 100% satisfaction guarantee.
This month, they're also offering $40 off any service, $500 off 95 Percent Efficiency Heating Systems and up to $2700 instant rebate off of qualifying systems.
The company is a subsidiary of The Wire Nut, an electrical installation and repair company locally owned and operated by Trent Urban, who bought the family business from his parents, Bob and Rosella in 2010.
Since taking over the company three years ago, he has continued to "raise the bar" on both HVAC and electrical services in the Colorado Springs, Denver and Pueblo areas. For the second year in a row, the company was listed as one of the fastest growing private companies in America by INC 5000.
The WireNut operates Air Flow Pros HVAC Colorado Springs and Denver locations. Services include furnace tune-ups, repair and replacement, air conditioning sales, tune-ups, duct cleaning, air cleaners.
The WireNut also offers same day, NATE–certified residential services that includes installation of breakers, fuses and electrical panels, electrical circuits and more.
Both companies provide service throughout El Paso and Teller counties, including Colorado Springs, Falcon, Black Forest and the Monument / Tri Lakes area.
For more information visit The Wire Nut at http://www.thewirenut.com or AirFlow Pros at http://www.airflowprosco.com . For 24 hour emergency service call (719) 465-5906.