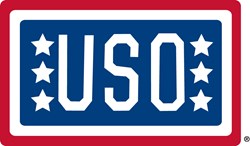 (PRWEB) November 21, 2013
Twitter Pitch: @GarySinise & the Lt. Dan Band to perform @the_USO concert for @NavalDistrctWash community
WHAT: USO Concert Featuring Gary Sinise and The Lt. Dan Band for naval community
WHEN/WHERE: Tuesday, December 3, 2013
DAR Constitution Hall
2:00 PM Press Conference Begins
2:20 PM Press Conference Ends
7:00 PM Performance Begins
WHO: Ray Mabus, Secretary of the Navy
Gary Sinise, Actor/Humanitarian, Founder of Gary Sinise Foundation, USO tour veteran
John I. Pray, Jr., USO Executive Vice President and Chief of Staff
Media interested in attending the press conference or concert must RSVP online at http://www.navdistwash.org/go/survey/6085/17134/, no later than 5:00 PM on Monday, December 2, 2013.
WHY: The USO and Gary Sinise are partnering with Naval District Washington to deliver a sprit-lifting USO concert to the U.S. Navy's Washington Navy Yard community as they heal and rebuild following the tragic shooting on Sept. 16. Sinise and his 12-member band, The Lt. Dan Band, will put on a two-hour family friendly performance and share his thanks and support to those who serve and work at Naval District Washington. The concert will be open to D.C. area service men and women, Department of the Navy civilian employees, contractors and their families. The concert will be held at the DAR Constitution Hall – the largest concert hall in Washington, DC.
An avid humanitarian and supporter of the men and women who dedicate their lives to protecting and serving, Sinise launched the Gary Sinise Foundation in 2011. The Foundation is dedicated to serving the Nation by honoring our defenders, veterans, first responders, their families and those in need by creating and supporting unique programs designed to entertain, educate, inspire, strengthen and build communities. Included among the many organizations the Gary Sinise Foundation supports is the USO. The concert was also made possible with support from American Airlines, which donated air transportation for Sinise and his band.
For more information about the USO, visit uso.org
###
About the USO
The USO lifts the spirits of America's troops and their families millions of times each year at hundreds of places worldwide. We provide a touch of home through centers at airports and military bases in the U.S. and abroad, top quality entertainment and innovative programs and services. We also provide critical support to those who need us most, including forward-deployed troops, military families, wounded warriors and families of the fallen. The USO is a private, non-profit organization, not a government agency. Our programs and services are made possible by the American people, support of our corporate partners and the dedication of our volunteers and staff.
In addition to individual donors and corporate sponsors, the USO is supported by President's Circle Partners: American Airlines, AT&T, Clear Channel, The Coca-Cola Company, Grand Canyon University, jcpenney, Jeep, Kangaroo Express, Kroger, Lowe's, Northrop Grumman Corporation, Procter & Gamble and TriWest Healthcare Alliance and Worldwide Strategic Partners: BAE Systems, The Boeing Company, Lockheed Martin, Microsoft Corporation and TKS Telepost Kabel-Service Kaiserslautern GmbH & Co. KG. We are also supported through the United Way and Combined Federal Campaign (CFC-11381). To join us in this patriotic mission, and to learn more about the USO, please visit uso.org.
ABOUT GARY SINISE
For over thirty years, Gary Sinise has stood as an advocate of America's servicemen and women. His passion in this area was born from his family's deep roots in military service and from a desire to contribute following the attacks on September 11, 2001.
His portrayal of Lt. Dan Taylor in the landmark film "Forrest Gump" formed an enduring connection with servicemen and women throughout the military community. After several USO handshake tours in 2003, Sinise formed the "Lt. Dan Band" in early 2004 and began entertaining troops serving at home and abroad. In 2011, Sinise launched the Gary Sinise Foundation to serve our nation by honoring its defenders, veterans, first responders, their families and those in need by creating and supporting unique programs designed to entertain, educate, inspire, strengthen and build communities. These include its R.I.S.E. Outreach (Restoring Independence and Supporting Empowerment), whose flagship initiative is its custom Smart Home building program for severely wounded veterans. Each home is customized to ease their daily challenges and help restore independence with features like retractable cook tops, cabinets and shelving, elevators and more, all accessible via an iPad. Other programs include Relief & Resiliency Outreach, Invincible Spirit Festivals, Serving Heroes and Arts & Entertainment Outreach. The Foundation has also partnered with GE on their Get Skills to Work program to help veterans translate military skills into advanced manufacturing jobs while empowering employers with tools to recruit, onboard and mentor veterans.
Sinise has received many distinguished awards including the Presidential Citizens Medal, the second-highest civilian honor awarded to citizens for exemplary deeds performed in service of the nation. He is only the third actor ever to receive this honor. Other awards include The Bob Hope Award for Excellence in Entertainment from the Medal of Honor Society, the Spirit of the USO Award, The Ellis Island Medal of Honor, and the Spirit of Hope Award presented by the Department of Defense and honorary Chief Petty Officer by the Navy.
About the Secretary of the Navy
Ray Mabus is the 75th United States Secretary of the Navy. As Secretary of the Navy, Mabus is responsible for conducting the affairs of the Department of the Navy, including recruiting, organizing, equipping, training, and mobilizing. Additionally, he oversees the construction and repair of naval ships, aircraft, and facilities, and is responsible for the formulation and implementation of policies and programs consistent with the national security policies established by the President and the Secretary of Defense. Secretary Mabus is responsible for an annual budget in excess of $160 billion and leadership of almost 900,000 people.
Upon assumption of office and throughout his tenure, Mabus has prioritized improving the quality of life of Sailors, Marines, and their families. He has also directed the Navy and Marine Corps to change the way they use, produce and acquire energy, setting aggressive goals that will move the Navy and Marine Corps to use at least 50% alternative energy no later than 2020. Secretary Mabus has improved the acquisition process within the Department, and has stressed Navy and Marine Corps leadership in development of unmanned systems.