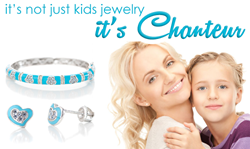 I never imagined I would become a designer of a jewelry line and to top it off, my creation even got the nod of Swarovski Elements.
New York (PRWEB) November 26, 2013
Sugar and spice and everything nice, that's what little girls are made of, but how about their jewelry? Diamonds are not their best friends until they reach the age of 18 because until then, their active lifestyle could mean losing the precious stone during play time. However, that does not mean that your little girl can't own the finest, safest, stylish and age-appropriate kids jewelry available.
Taking inspiration from his own daughter, the muse of his jewelry line, owner, designer and proud father, Alexander Singer, came up with the idea of creating jewelry that especially cater to girls up to age 12. That is how his online business, Chanteur Designs (http://www.chanteurdesigns.com), started.
"A few years ago, I went jewelry shopping for my daughter and realized that there were not that many options out there, and for the price that I was going to pay for, the quality was not good enough," said Alexander Singer, owner and designer, Chanteur Designs, "That is how I got the idea of designing and creating jewelry for my little girl. I was determined to make the best, kid-friendly jewelry that is safe as it is fashionable for my little princess," added Singer.
It was a hobby that turned into a business for Alexander. His designs boast of adorable pieces with beautiful elements such as butterflies, hearts, stars and flowers that every girl would love. His designs even managed to impress the global brand of fine crystals, Swarovski Elements who became the company's branding partner.
"I never imagined I would become a designer of a jewelry line and to top it off, my creation even got the nod of Swarovski Elements, for a man, this is a great feat," said Singer, "Love makes all things possible, my daughter is the sole inspiration behind my creations."
Safety is also a value that Chanteur designs give importance to as all of its jewelry go through the strict quality control testing of Toytestinglab, a laboratory accredited by the Consumer Product Safety Commission. Chanteur Designs assures that all of its pieces are safe from lead and nickel.
Chanteur Designs boasts of 4 collections, Swarovski Elements Collection, Swarovski Enamel Collection, CZ Collection and CZ Enamel Collection, composed of the most adorable kids earrings, kids bangles and kids bracelets available in the market.
SWAROVSKI ELEMENTS COLLECTION
This collection is composed of starter pieces that give kids the sparkly, "grown up" look with age appropriate, unique styles that caters to children. Infused with crystals from Swarovski Elements, designs from this collection will make your little girl look and feel like the princess that she really is.
SWAROVSKI ENAMEL COLLECTION
Cute, adorable and dainty, the Swarovski Enamel Collection is a range that's perfect for the sweetheart in your life. With colorful pieces that incorporate precious crystals from Swarovski Elements, any item from this collection can match up with the adorableness of every little girl.
CZ COLLECTION
Any item from the CZ collection can liven up any little girl's wardrobe. With cute designs that incorporate hearts, and pinks, your precious girl will surely fall in love with items from this range that infuses only the finest CZ that will help her sparkle even more.
CZ ENAMEL
If butterflies make her little heart skip a beat then, the CZ Enamel Collection is perfect for her. With designs that are inspired by colorful butterflies, your little darling can find the perfect jewelry that incorporates world-class CZ to match her colorful life.
"I am dedicated to making top quality children's jewelry. If I am confident to have the most important girl in my life wear my products, then I can assure you that it's safe and fashionable enough for every other little girl out there. It's a promise made from a father to a daughter," said Singer.
Chanteur Designs offer the best gift for the little girl in your life. Perfect for any occasion, birthday, Christmas or just a regular Tuesday, why not give her the gift of style that will surely make her smile. Each purchase comes with a beautiful gift pouch which makes it the perfect gift for any occasion.
For more information, log on to http://www.chanteurdesigns.com or follow the brand in Facebook at Facebook/chanteurdesigns or Twitter @Chanteurdesigns.
Reference
Miles Montecillo
E: milesmontecillo01(at)gmailz(dot)com