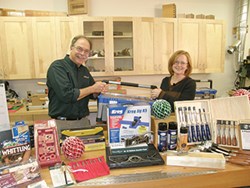 If we didn't give you enough ideas, there's thousands more in the Woodcraft catalog.
Parkersburg, WV (PRWEB) November 22, 2013
Let the pros help you select holiday gifts from Woodcraft for the woodworkers and do-it-yourselfers on your list. Check out the products selected by Scott and Suzy Phillips, co-hosts of "The American Woodshop" on PBS, below (partial list), or view all their choices in an online video at http://www.youtube.com/watch?v=jYF--q39Tdc&feature=share&list=UUtMbRG_VdfpwloGvY2OjXaQ.
One-Size-Fits-All Gift

A Woodcraft Gift Card is ideal for the difficult-to-buy-for family member or friend on your list. A Gift Card allows the recipient to select from a total of 20,000 products available in Woodcraft retail stores, the Woodcraft catalog and online at woodcraft.com. Gift Card Holders are also available.
$101-$150

Kreg Jig K5 Pocket Hole System – This newest version of the Kreg Jig® system for making pocket hole joints offers many updates, including a tool-free clamping system, two large attachable support wings with integral storage compartments, foolproof depth collar setup gauge and more.
WoodRiver #92 Medium Shoulder Plane – Based on Edward Preston and Sons' plane designs, Woodcraft's modern version has the look and feel of an antique but a design optimized for serious shop work.
$51-$100

Flexcut Craft Carver Tool Set, 5-Piece – Ideal for beginners and carvers who travel a lot, this set includes a handle, four interchangeable blades (3/8" No. 3 gouge, 3/8" No. 6 gouge, 1/8" No. 11 veiner, and 1/4" 70° V-parting tool), a preprinted design for carving, and a storage pouch.
Kreg Deep Toolboxx with Kreg Jig R3 Kit – Store all your Kreg joinery tools and screws in this spacious toolbox that features a large lower compartment and an upper organizer. Comes with Kreg Jig R3 kit, premium face clamp, and Screw Selector Wheel. Kreg screws not included.
Pinnacle 12" Combination Square, 4-Piece – This handy set includes all the tools needed for almost any layout project: a blade, square head and center finder in a foam lined case.
4-Piece Set of WoodRiver Bent Paring Chisels – Remove glue lines, trim protruding plugs or clean out corners easily with these chisels. An 18° angle in the tang provides enough relief to allow the user to easily grasp the chisel handle while keeping the blade flat on the work surface.
$5-50

Sharp-n-Easy Two-Step Knife Sharpener – Keep knives sharp in the shop, kitchen and toolbox with this small, hexagonal disc that features coarse and fine ceramic sharpening rods and nonslip grips.
"Woodcraft Magazine" – A year-round gift, "Woodcraft Magazine" publishes six issues a year filled with new woodworking projects, techniques and products. Subscribe for two years and save money.
Antimicrobial Dusk Mask – This washable Antimicrobial Mask is lab tested at 1.0 microns to help filter dust, pollen, many types of bacteria, airborne germs from coughs and sneezes, pet dander and mold spores.
WoodRiver 16" 3W LED 250 Lumen Shop Light with Focusing Head – A magnet attaches the light to its base or to any steel or iron surface, and the gooseneck allows multi-directional positioning. Uses two AAA batteries, or plugs into a 110V outlet.
Veritas Sharpening System – This easy-to-use precision hand sharpening system gets chisel and plane blades razor-sharp. Comes with an angle setting jig to establish primary bevel.
General Tools EZ Pro Crown King Crown Molding Jig – Cut perfectly mitered interior and exterior corner joints with this jig – right out of the box. Jig eliminates difficult angle calculations and compound angle cuts.
DMT Dia-Sharp 2-1/2" Diamond Offset Mini Hone Kit – Sharpen, deburr and hone in tight places such as circular saws blades and router bits, while keeping hands safe. Set contains coarse, fine and extra fine grit.
MICROJIG GRR-Rip Block – Take control of a workpiece at the table saw, bandsaw, jointer, shaper or router table with this pushblock. Nonslip material and Smart Gravity Heel hooks allow pushblock to securely hold material.
Woodpeckers Combo Shelf Pin Template – Adding holes to shelving is easy with this template that combines inch and metric spacing to work with self-centering drill bits, router guide bushings and even plain drill bits using the optional drill guide.
"If we didn't give you enough ideas, there's thousands more in the Woodcraft catalog. You can find any kind of project or any kind of tool you want for that special someone," Suzy said. "And if you don't know what to get, get them a Gift Card."
For more information about these products or Woodcraft, please contact the store nearest you, visit http://www.woodcraft.com or call (800) 535-4482. To learn about Woodcraft franchise opportunities, visit http://www.woodcraftfranchise.com or email woodcraftfranchise(at)woodcraft(dot)com.