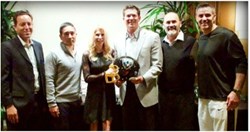 New Orleans, LA (PRWEB) November 21, 2013
One of America's top football families joins ranks with outside financiers and Thrive Sports Group to purchase one of the Elite Football League of India's premier teams, The Mumbai Gladiators.
Brotherly love abounded in the Booty family of Shreveport, Louisiana, as brothers Josh, Abram, John David and Jake established themselves as perhaps the greatest collection of high school football players to constitute one family.
"As soon as I heard that the EFLI teams were for sale, I was very excited to be a part. The opportunity is both enormous and very real. I guess I am known for developing an outstanding passing game as well as outstanding team play and players from scratch. This is exactly what the EFLI needs."
"I do believe my entire family will eventually benefit in much the same way as the original owners of the NFL have benefitted."
"There are young men here in India right now that, with hard work and dedication to learning the game, will absolutely have a chance to play at the highest level, equal to that of the NFL."
"After speaking with Kurt Warner regarding his recent visit to India, I knew I wanted to be involved, to have the opportunity to teach these young men what I believe is the best sport in the world. It is very exciting."
"Our highest goal is to make sure that in a very short period of time, all of India will be talking about the Mumbai Gladiators, our players and the Elite Football League of India. The progress we will make in the coming two or three years is going to shock the world," said Managing Director, John Booty.