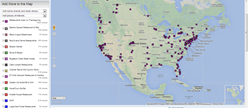 Reston, VA (PRWEB) November 21, 2013
MapMuse today announced the 2013 release of their Restaurants Open on Thanksgiving Locator, a free web tool that connects Thanksgiving celebrants who would like to avoid the cooking and clean-up while enjoying the pleasures of sharing a fine Thanksgiving meal with loved ones with over 5,000 restaurants that are all too happy to do the work.
The Locator is built on an interactive map that plots the locations of restaurants that will be open for dinner on Thanksgiving. Users can choose from a wide range of range of restaurants; from mom and pop cafes to fine dining establishments.
In addition to independent restaurants, MapMuse has added national chain restaurants known to be open on Thanksgiving including such chains as Cracker Barrel, Denny's, Golden Corral, Boston Market, and Ruth's Chris Steakhouse.
Each restaurant is represented on the map by an icon, which, when clicked on, brings up its profile page. The profile page contains essential information such as contact details, cuisine type, and web links.
Mike Pilon, owner of MapMuse.com, recommends that diners call to make a reservation and to confirm that the restaurant will actually be open on Thanksgiving.
The Restaurants Open on Thanksgiving Locator can be accessed free of charge at mapmuse.com/thanksgiving. Users may also be interested in other Thanksgiving themed maps, including the Turkey Trots Locator (to burn off all those Turducken calories), Turkey Farm Locator (to find the perfect free-range turkey for your table) and the Thanksgiving Day Parades Locator.
MapMuse is an internet and app development company based in Reston, VA. It bills itself as the best site to "find places to live, learn, work, and play," and has created dozens of holiday themed maps for the general public. For more information on MapMuse, please refer to their homepage.