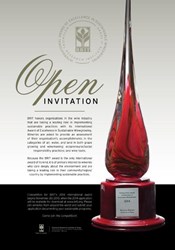 Fort Worth, TX (PRWEB) November 20, 2013
The Botanical Research Institute of Texas is accepting applications for its 2014 International Award of Excellence in Sustainable Winegrowing. The application is on BRIT's web site at http://www.brit.org/webfm_send/439 and ready for downloading. The completed submission (application and wine sample) is due on or before March 31, 2014.
Established in 2010, BRIT's International Award of Excellence in Sustainable Winegrowing honors wineries that demonstrate a commitment to the three tenants of a sustainable business approach - environment, economic, and social. It is the only international award of its kind.
The overall winner receives the BRIT Sustainable Winegrowing glass sculpture award and platinum medal, second place receives the gold medal, and third place receives the silver medal.
BRIT uses a place-based evaluation ranking system to determine awardees. Wine organizations are judged for their innovative sustainable practices in the categories of air, water, and land in both winegrowing and winemaking; social responsibility practices; and wine taste. The award attracts progressive wine organizations from around the world that practice "ground to glass" sustainability.
The highest award for BRIT's International Award of Excellence in Sustainable Winegrowing is the Platinum Award. The Platinum Award winner receives the BRIT glass art sculpture and the Platinum medallion. The platinum winner agrees to come to Fort Worth, Texas for the award's presentation. BRIT also recognizes other top-tier winegrowing practices with Gold and Silver level awards. Award recipients will be honored with medals and given permission to use BRIT's award logo artwork in their marketing efforts.
The award application is comprised of 18 high-level self-assessment questions focusing on the three tenants of sustainability: environmental, social, and economic aspects, plus a nineteenth subjective assessment – wine taste. The judging committee values a balance between all the judging criteria.
Among the 18 criteria judged are seed selection, agricultural and winemaking protocols for saving water, soil conservation, saving energy, packaging protocols for waste reduction, programs for reducing carbon (CO2 e) emissions, social responsibility programs, and plans for continual improvement.
Applicants must describe their organization's conservation efforts in the vineyard and in operations: how waste is avoided, how it is reclaimed, and how the winery extends conservation efforts to its customers. They must also detail the practices they have established to maintain environmentally sound, socially responsible, and economically feasible winemaking principles. A bottle of wine must also be provided for a tasting by the judging committee.
For 2013, Yalumba, Australia's oldest family-owned winery received BRIT's International Award of Excellence in Sustainable Winegrowing based on its continual improvement processes. Prior recipients include Trefethen Family Vineyards (2012), Parducci Wine Cellars (2011), and HALL Wines (2010).
The 2013 Sustainable Winegrowing application may be downloaded at the BRIT web site: 2014 International Sustainable Winegrowing Application.
About the Botanical Research Institute of Texas
Founded in 1987, the Botanical Research Institute of Texas (BRIT) based in Fort Worth, Texas, is an international, scientific research and learning center focused on conservation, knowledge sharing, and studying the diversity of plant life. BRIT conducts extensive global research, including major projects in Texas, Europe, Peru, and the Pacific Islands. In the last 10 years, BRIT scientists have located and described scores of species previously unknown to science. BRIT's herbarium is among the largest in the United States and is the largest U.S. herbarium not part of a university, botanical garden, or broader natural history museum. In the spring of 2011, BRIT moved into its new, US Green Building Council LEED (Leadership in Energy and Environmental Design) Platinum-certified headquarters located in the Fort Worth Cultural District. For more information, visit http://www.brit.org.