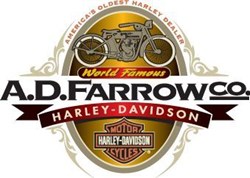 Columbus, OH (PRWEB) November 21, 2013
A.D. Farrow Co. Harley-Davidson located in Columbus, Ohio is known world wide for being America's oldest Harley Dealer™ as well as an award winning industry leader in the world of Powersports.
Recently A. D. Farrow Co. Harley-Davidson joined forces with local art school, Columbus College of Art and Design (CCAD), to create an unprecedented line of tee shirts entitled, Uncrated. The student's inspiration came from the 101 year old company's history, sense of community and Columbus roots. With a solid brand reputation, A.D. Farrow Co. deemed t-shirts as an ideal medium to broaden the appeal and exposure of the brand.
Students collaborated with the Company's marketing department and owner Bob Althoff in order to begin the brainstorming process. "For the first two days of the concentrated design period, students were encouraged to brainstorm as many good designs as the desired," stated CCAD professor Dave Groff.
"We wanted to seek out students for this project because we wanted to gain a fresh perspective about our brand from them. It was refreshing, they saw our brand in a way that maybe we had not yet explored," claimed dealer principal Bob Althoff.
After many hours of research, concepts, and sketching ideas each student presented the company with a first look at their individual designs. Through a critique and review period of each student's ideas, five CCAD artists were selected to move into the second phase on shirt designs. After a second round of refining designs and making presentations the final shirts were selected.
The CCAD, Mind Market process yielded many collections such as: Columbus, A.D. Farrow University, I Am A.D. Farrow, Buckeye Motorcycle Club, Heroes, and Dream Dare Do.
Ten of the T-shirt designs are scheduled to debut in two of the A.D. Farrow Co. locations, The Sunbury Shop at NorthStar and Downtown Columbus, Ohio in the near future. The launch celebration will be held on December 7th from 12:00pm until 1:00pm at the Downtown store. The public is welcome.