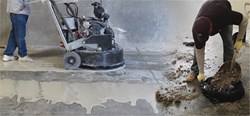 Now contractors have an easy, viable, and cost effective slurry solution that helps keep oceans safe from hazardous wastewater.
(PRWEB) November 21, 2013
As more construction companies become environmentally conscious, they turn to Gelmaxx for a green solution. Gelmaxx has created a product that helps reduce the harmful impact that concrete slurry wastewater can have on the ocean. When contractors grind or cut concrete with water, it mixes together into slurry wastewater that is illegal to dispense into the drain and sewers due to its hazardous nature. Our E CO-QUICKgel slurry solidifier is a super absorbent powder that turns concrete slurry into a dry material that is safe to dispose in any standard waste container.
On August 23, 2013, the Occupational Safety and Health Association (OSHA) proposed new regulations about crystalline silica, aka concrete dust. These new standards have caused more concrete contractors to work with water and produce larger amounts of slurry wastewater. When slurry enters the storm drain, the wastewater is essentially being poured directly into the ocean because it is connected to the storm drains. Since concrete slurry is highly alkaline with larger pH levels, it will negatively disrupt the ocean's delicate biosphere and cause serious harm to the aquatic life.
Even if the slurry wastewaster was left on the ground to dry, the slurry particles can be swept into grass, lakes, streams and oceans. When the dry slurry is exposed to water or rain, it becomes water runoff that eventually leads to the storm drains.
The Environmental Protection Agency (EPA) dictates that we use proper slurry disposal methods, unless we would like to face up to $10,000 in fines. However, many contractors are willing to forgo the risk of fines unless there is an easy and efficient solution to slurry disposal.
With the ECO-QUICKgel slurry solidifier, contractors can quickly and efficiently clean up wastewater without disrupting their workflow. The solidifer is an organic polymer that can absorb up to 500 times its weight without much added volume. 20 grams per gallon of treated material will create a gel like solid within minutes that is safe to dispose and EPA compliant.
MSI Terrazzo Grinding company "loves the ECO-QUICKgel and how simple it is to use" by broadcasting "ECO-QUICKgel over the terrazzo slurry then squeegee it into a pile. After about 5-10 minutes, the waste is solidified and [they] can throw it away in the dumpster. ECO-QUICKgel is definitely a great product."
By using Gelmaxx's ECO-QUICKgel slurry solidifer, contractors can effectively dispose concrete wastewater as conventional waste. Now contractors have an easy, viable, and cost effective slurry solution that helps keep oceans safe from hazardous wastewater.
Gelmaxx, based in California, was established in 2011 and provides contractors slurry solutions specifically designed to help during all parts of the cleanup phase. Gelmaxx was founded by a grinding and polishing expert who understands the challenges the industry faces with strict regulations and growing cost of doing business. For more information, visit http://www.gelmaxxusa.com.