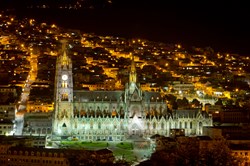 Many visitors spend days just exploring the Old Town...
Glendale, CA (PRWEB) November 21, 2013
The world's first UNESCO World Heritage listed city, Quito is fast becoming one of the most popular stops for travellers on the South American trail. To visit Quito is to visit not just the centre of the world, but over 1000 years of pre-Colombian and colonial history.
Following a brief Incan occupation, the Spanish conquered and 'founded' the city in 1534. Their influence is keenly felt today. Many visitors spend days just exploring the Old Town, along with sights such as the Iglesia de San Francisco, the first church built in the Americas. For those who've explored the city and want to see more of Ecuador, the Equator, Otavolo and Cotacachi Markets and Cotopaxi National Park, are all easy day trips.
Goway Travel is giving away a trip for two to Quito, including round-trip airfares from Miami, 3 nights accommodation, tours of Quito and Saquisili Market and an overnight stay in a colonial hacienda, all valued at up to $5,000.
Travellers can enter by visiting Goway on Facebook and listing which other Ecuador destination they would pair with a stopover in Quito to create their ultimate getaway. Those stuck for ideas can visit Goway's website. The company offers over 65 Ecuador tours, all ready to intrigue and inspire.
Since 1970, Goway has been providing unforgettable travel experiences to Africa, Asia, Australia and New Zealand, idyllic island destinations and Latin America. Today Goway is recognized as one of North America's leading travel companies for individuals, families and groups to select exotic destinations around the globe. Goway has offices in Los Angeles, Vancouver, Toronto, and Sydney (Australia).
For reservations and information, visit http://www.goway.com, call your Travel Professional or 1-800-387-8850.