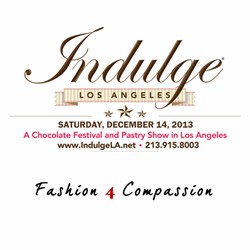 WHAT YOU WEAR, CAN MAKE A DIFFERENCE
Los Angeles, CA (PRWEB) November 21, 2013
Welcome to Decadence, Defined the LA Chocolate Festival and Pastry Show
Oh, Indulge LA! How we have missed you! The most revered celebration of chocolate is back and better tasting than ever before. From the deepest dark chocolates to the most mouth-watering milk chocolates, Indulge LA is the event that offers the most comprehensive array of gourmet candies and pastries available under one roof.
Hosting the 2013 LA Chocolate Festival and Pastry show is none other than the mentalist star Owain Yeoman. Yeoman's dedicated to charitable causes and his commitment to anti bullying campaigns reaches a highlight at this year's Indulge.
Nothing enhances the complexity of our world class assortment of fine wines & spirits quite like the deliciously indulgent pastries and desserts that are offered at Indulge LA. Prepared by some of Southern California's most revered gourmet artisans, we offer a truly excellent afternoon of flavorful indulgence.
Event Specifics:
When: Saturday December 14, 2013 1pm - 5pm
Where: Hyatt Regency Century Plaza 2025 Avenue of the Stars, Los Angeles, CA 90067
What: A Chocolate Festival and pastry show featuring the BEST Chocolate and Pastry chefs in Los Angeles. Along with the #1 wine & spirits from around the globe.
The number one brands from around the globe come together:

#1 The World Champion Chocolate Chef & Master Chocolatier
#1 World Champion Pastry Chef
#1 World Champion Chocolate Chef
#1 US Champion Pastry Chef
Why: To indulge all your senses and raise funds for the Fashion 4 Compassion
Celebrity Chefs: Jean-Marie Auboine - World Champion Chocolatier, Stephane Treand – World Champion Pastry Chef , and many more…
Partial list of participants: Chocolate Shop Wines, Vosges, Montage Laguna Beach, and many more…
For more information visit http://www.IndulgeLA.net
About Fashion 4 Compassion:
Fashion 4 Compassion is a 501 c3 that partners with and provides financial assistance to established and emerging Anti Bully charitable organizations, to further build awareness, education, reform and counseling programs. Fashion 4 Compassion hosts local and national events such as "Catwalk 4 Cause" and "Skate Against Hate", and provides positive messaging through national marketing (PSA ) campaigns in the effort to end bullying.
By incorporating Fashion with cause we give you the ability to purchase product not only with your eyes but with your heart!