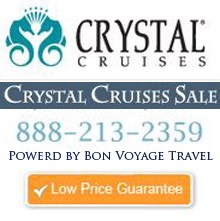 Tucson, Arizona (PRWEB) November 22, 2013
CrystalCruisesSale.com, the online cruise sale division of Bon Voyage Travel and preferred partner of Crystal Cruises, is pleased to announce that Crystal Cruises has been voted the industry's "Best Cruise Line" (midsize) for a record 20th year by the readers of Condé Nast Traveler magazine. Crystal's winning score of 94.4 is the company's highest since 2004 and their second highest ever. In fact, Crystal's score this year is actually higher than all small, midsize or large ships.
The renowned Crystal Experience has been rated "World's Best" more than any other cruise line, hotel, or resort in history. The newest "Best" award is the latest in a string of readers' choice awards Crystal has won in its size category this year, including Conde Nast Traveler's #1 and #2 cruise ships, Travel + Leisure magazine's World's Best Cruise Line and Service and Cruise Critic's Best Dining, Entertainment and Public Rooms.
Crystal has invested $120 million in redesigns and enhancements including new Boutique Adventures, more connecting staterooms, new America's Got Talent's iLuminate and Magic Castle at Sea entertainment, the first Living Wall at sea, digital filmmaking education on every voyage and a $15 million Extreme Makeover of Crystal Symphony. In addition a $17 million Extreme Makeover of Crystal Serenity planned for next month. CrystalCruisesSale.com is proud to be a preferred partner of Crystal Cruises, and with 35 years leading the travel industry, their consultants are able to help clients choose the best rooms, pick the right excursions and provide the ultimate amenities. Through late November CrystalCruisesSale.com is offering two-hundred dollars shipboard credit on any Crystal cruise for their Thanksgiving sale, combinable with all current offers including the Fall Promotion. The Fall Promotion can combine for up to nine-hundred and fifty dollars in shipboard credit. This is a great opportunity for customers to experience for themselves why Crystal Cruises has been voted the best cruise line for the 20th year.
About the Author: Crystal Cruises Sale is one of the online Cruise Sale divisions of Bon Voyage Travel, a travel agency founded in 1976 in Tucson, Arizona. With over 35 years leading the travel industry, Crystal Cruises Sale offers additional amenities and superior service to those seeking the best cruise experience. Crystal Cruises Sale is one of ten dedicated online Cruise Sale websites, which successfully serve thousands planning their cruise vacation at the lowest price.