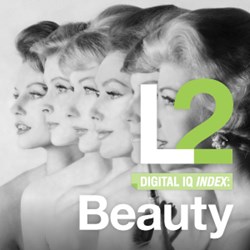 Beauty brands are doubling down on digital, and some of these bets are starting to pay off.
New York, NY (PRWEB) November 22, 2013
Today, we released the 2013 Digital IQ Index®: Beauty report, which analyzes and benchmarks the digital performance of 85 global Beauty brands across Site, Digital Marketing, Social Media, and Mobile over the past year. In addition to the rankings, this fifth-annual report provides industry trend analysis, exclusive data on brands' social media and digital campaign efforts, as well as a series of 'Flash of Genius' case studies. Authored by Scott Galloway, L2 Founder and NYU Stern Clinical Professor of Marketing, the 2013 Digital IQ Index®: Beauty study provides a comprehensive, quantitative and qualitative view of how brands in the global Beauty market are performing, digitally, relative to their peers.
"Exploiting new growth channels, Beauty brands are doubling down on digital, and some of these bets are starting to pay off." -Scott Galloway, L2 Founder
To download an excerpt of the new report, use the link below:
http://l2thinktank.com/research/beauty-2013
Study Highlights:

Instagram is Beauty's hottest social platform, with 79 percent of brands in the Index now present, up from just 29 percent in 2012.
Amazon is the most visible site in Beauty searches, appearing on the first page of organic results for more than 60 percent of skincare, color cosmetics, and fragrance keyword searches.
Beauty brands' products are being sold unofficially on Amazon at an average of 30 percent less than MSRP.
While mobile app development has plateaued and tablet-specific investments are nascent, nearly three-quarters of Beauty sites are mobile-optimized today—a 50 percent YOY increase.
L'Oréal brands control the Index's top three spots, the result of significant YOY investments.
Five of the Top 10 brands in this year's Index belong to Estée Lauder, which maintains the highest average enterprise Digital IQ.
Kiehl's, Bobbi Brown, and Benefit Cosmetics punch above their weight class, and are all in the Genius category for the first time this year.
Fragrance brands lag in the sector, with 60 percent earning Challenged or Feeble scores.
About L2
L2 is a think tank for digital innovation that helps prestige brands navigate the digital marketing landscape through education, research, and advisory services. The L2 Digital IQ Index® is the global, seminal benchmark for digital performance of brands and the largest and most robust study of its kind. Rankings are published annually across numerous industries, including: Luxury, Beauty, Retail, Travel, Spirits, Auto, and CPG. For more information, visit: http://www.l2thinktank.com.
###