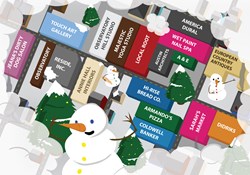 Cambridge, MA (PRWEB) November 21, 2013
On the evening of Sunday, December 8, 2013, from 5:00-8:00 pm, businesses on Observatory Hill will be open for their 2nd annual Holiday Stroll. Visitors are invited to stop in and shop at local businesses and enjoy the holiday cheer. Raffle tickets will be sold at participating businesses to benefit local charity Cambridge Family and Children's Service, and the winner will receive a gift basket full of goodies from Observatory Hill Businesses.
The specially decorated shops participating in the stroll will offer holiday treats and activities, and extended shopping hours. Hi-Rise Bread Co. will be holding a holiday bazaar where local artisans will sell handmade goods. Other stores will offer the likes of holiday cookies, warm cider, light appetizers, and even a chance to visit with Santa.
Participating businesses include America Dural, Annie Hall Interiors, Armando's Pizza, Austin Architects, Coldwell Banker, Didriks, European Country Antiques, Hi-Rise Bread Co, Jeana's Dirty Dog Salon, Local Root, Majestic Yoga Studio, Observatory, Observatory Hill Studio, Reside, Sarah's Market, Touch Art Gallery, and Wet Paint Nail Spa. Neighborhood residents and visitors are encouraged to bring their friends and family out to this community event to get a head start on holiday shopping.
Observatory Hill is a distinct neighborhood of West Cambridge centered around the 100-year-old Harvard University observatory that is part of the Harvard-Smithsonian Center for Astrophysics. This storied, tree-lined neighborhood is home to a long list of well-known food and wine stores, shops, restaurants, and more.
Learn more about participating businesses and the Observatory Hill neighborhood here: http://www.observatoryhill.com.