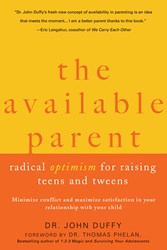 (PRWEB) November 21, 2013
Dr. John Duffy was recently featured in an article by TIME magazine on the use of devices in cars designed to inform teen drivers, and their parents, when the driver makes mistakes. as TIME states, "These technologies can now alert parents when their kids exceed their parents' pre-programmed speed limit, for example, or brake or accelerate suddenly, either of which could indicate that the teen is in trouble. But how effective are these black boxes in preventing crashes? Or are they yet another example of intrusive, even counter-productive parenting?"
Dr. Duffy says that he has found that teenagers are safer drivers when they know their parents are monitoring their driving. However, he cautions parents not to over-do the surveillance, because then the device can become "effectively a show of no faith in your now experienced young driver."
Dr. John Duffy is also the parenting expert on Steve Harvey, which airs nationally on NBC.
The Available Parent
Radical Optimism in Raising Teens and Tweens
By John Duffy
Have you ever been bewildered by the changes in your child and your sudden lack of effectiveness as a parent? When hugs and family fun have been replaced by silence, slamming doors and an ever-changing array of moods, you need new tools. Top teen expert Dr. John Duffy has encountered all of this and more in his family counseling practice and offers excellent advice, clear strategies and teen-tested solutions in The Available Parent. The Available Parent is also available as an audiobook.