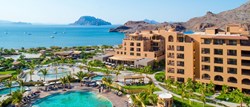 Islands of Loreto, Baja, Mexico (PRWEB) November 21, 2013
Villa del Palmar at the Islands of Loreto, the newest member of Villa Group Resorts, today announced a special Thanksgiving Week Getaway Package available to guests traveling during the holiday week. Available Nov 24 through Nov 30, the package includes:

Hotel room and taxes in a Deluxe Suite
2-for-1 relaxation massages at Sabila Spa
Complementary access to the resort's Fitness Center
Complementary access to Sabila Spa's wet areas, including sauna, steam room, Jacuzzi and more
10 percent off all food and beverages
Up to two children ages 6 and younger stay for free and eat for free, too
This special Thanksgiving Week package is being offered at $109 USD per person per night.
In addition, on Thanksgiving Day, the resort will be offering a special menu that includes traditional American fare, but with a Mexican twist that's sure to please.
A Fine Dining Thanksgiving in the Islands of Loreto
The resort will offer a traditional plated four-course dinner in its fine dining Danzante Restaurant, the resort's newest restaurant, which specializes in Mexican fusion cuisine including seafood, fresh fish and fine cut meats. For the Thanksgiving feast, guests will begin their meal with a delicious Pumpkin Cream Soup with a dash of cinnamon, followed by a Pilgrim Salad made from locally-grown lettuce, dried fruit, baby pears and goat cheese in a pumpkin and brown sugar dressing.
Diners will then have their choice of three delectable entrees:

Traditional Stuffed Turkey plated with cranberry sauce and Mexican flavors
Café La Mision Steak Filet, an almond-crusted beef filet with a coffee-based sauce
Dover Sole fish filet in lemon and caper sauce
Topping off the evening will be a celebratory dessert of Apple Crumble with a spectacular custard sauce.
There will be two seatings for this special meal at Danzante Restaurant: 6:30 p.m. and 8:30 p.m. This semiformal affair is for adults and children over the age of 15 and is for the set price of $70 USD per person.
Casual Thanksgiving Dinner Poolside
For guests looking for a more casual affair, Villa del Palmar at the Islands of Loreto will offer a special Thanksgiving buffet around its main pool area. Guests will dine al fresco on a delicious Waldorf Salad with arugula, spinach, mixed lettuce, green beans, dried fruits, cranberries, baby pears and goat cheese; followed by a delicious Pumpkin Cream Soup with a dash of cinnamon. Main courses available on the buffet include:

Hunter's Chicken, delicious chicken breast meat tied with bacon, Oaxaca cheese and a special barbecue sauce
Café la Mision Steak Filet, an almond-crusted beef filet with a coffee-based sauce
Jack Daniel's Ribs, famous Tennessee ribs covered with a rich bourbon sauce
Dover Sole fish filet in lemon and caper sauce
Traditional Roasted Turkey with all the trimmings
This causal meal is available to adults and kids of any age and is for the set price of $40 USD per person. The Thanksgiving buffet will be available starting at 6 p.m.
For resort reservations or additional information, please contact the resort at reservaciones(dot)vdpl(at)vgloreto(dot)com or call 800.790.4187. To learn more about Villa del Palmar, contact your preferred travel professional, visit http://www.villadelpalmarloreto.com/ or call the number above.
ABOUT VILLA DEL PALMAR AT THE ISLANDS OF LORETO
Baja's First Million Star Resort
Villa del Palmar at The Islands of Loreto is a self-contained destination resort on the Sea of Cortez, off the eastern coast of the Baja peninsula overlooking Danzante Island (one of five in the region). It features 181 new, spacious, beautifully appointed Deluxe Ocean View, one, two and three bedroom Suites with balcony or terrace, stunning ocean views, mountain views, outstanding restaurants, an attentive English-speaking staff, five swimming pools, a 39,000 square feet Spa, two tennis courts, beautiful beaches and a mild and warm climate year-round. The New York Times lists Loreto in its Top Ten Places to go in 2011. The travel article featuring The Islands of Loreto, Baja California South, Mexico ranked first among readers.
Guests can enjoy scuba and snorkeling tours in the protected Marine Park within the five prominent Loreto Islands, horseback riding, swimming, world-class fishing (catch a Dorado and bring it home to have a Villa del Palmar at The Islands of Loreto chef prepare it for you), paddle boarding, kayaking, whale watching and mountain biking. With complimentary shuttle service, guests can explore the historic town at the Islands of Loreto and visit the 1697 mission that made the town famous. The area is also known for its wildlife, including the 900 species of fish off the coast and in an area that has been declared a World Heritage Site. Hotel perks include a spa and fitness center, massages, salsa dance lessons and movie nights for children.
###