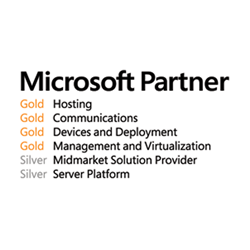 This designation is truly the gold standard for our business, which in turns brings a great deal of peace of mind to our customers and partners.
Fort Worth, Texas (PRWEB) November 21, 2013
Kevin Valadez, Co-President of Enterhost, today announced the company has attained a new level of Microsoft certification, securing gold competencies in hosting, communications, management and virtualization, and devices and deployment; and silver competencies in server platform and midmarket solution provider. This year's renewal marks the company doubling its gold competency count from two to four.
"This quantity and quality of Microsoft competencies signifies our growth in the past year, particularly in the increase of Microsoft Certified Professionals on staff," said Mr. Valadez. "The Microsoft competency program has a history of growing more challenging with each year; the fact that we've earned more gold competencies than ever before should symbolize to our customers our steadfast commitment to excellence."
A high-level overview of what the competencies mean for Enterhost and its customers:

Gold Communications: Microsoft's suite of unified communications solutions, including Lync 2013 Enterprise Voice, Exchange 2013, and SharePoint 2013
Gold Hosting: datacenter and hosted solutions
Gold Management and Virtualization: private cloud services
Gold Devices and Deployment: desktop, Windows migrations and upgrades
Silver Server Platform: Windows Server solutions
Silver Midmarket Solution Provider: midsize business infrastructure support and management
The Microsoft Certified Partner Gold and Silver Competencies are reserved for companies who meet Microsoft's most stringent and demanding partnership requirements. Almost all Enterhost employees participate in the annual renewal process: the technical support team is entirely Microsoft Certified by exceling at a host of technical exams, the sales and marketing departments surpass extensive product and service testing, and the company provides numerous customer references, as well as meets aggressive annual sales goals set by Microsoft.
Microsoft updates its partner program requirements on an annual basis, continuously raising the bar and making it more difficult to obtain Gold competencies. According to Enterhost, despite the yearly changes to the rigorous program, the company has achieved Gold status at each renewal since 2007, consistently dedicating time and resources towards Microsoft's evolving protocol.
"While only seven percent of Microsoft partners worldwide hold gold or silver competencies, even fewer have multiple competencies. Our goal for this year was to increase our expertise and double our gold competency count," said Mr. Valadez. "This demanding annual process is an opportunity to challenge our team to be the best there is in our field, which in turn directly benefits our customers. Our long-standing relationship with Microsoft since 2000, and our ability to offer the highest level of technical ability and fluency in the IT industry are represented by this industry gold standard: the Microsoft Gold competencies."
ABOUT ENTERHOST
Founded in 2000, Enterhost is a leading provider of IT business solutions, specializing in Windows applications for office phone and business email, as well as cloud storage, backup, disaster recovery, virtualization and colocation. Enterhost's team of Microsoft-certified professionals provides support for clients worldwide. The company has key partnerships Microsoft (Gold Hosting, Gold Communications, Gold Devices and Deployment, Gold Management and Virtualization, Silver Server Platform, and Silver Midmarket Solution Provider), Dell (Premier Partner), and VMware (Professional Service Provider).
For more information, visit the all-new http://www.enterhost.com, or follow Enterhost on the company's blog, LinkedIn, Facebook (@EnterhostIT), Twitter (@Enterhost), YouTube (@Enterhost), and Instagram (@Enterhost).
###