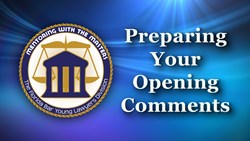 Daytona Beach, Fla. (PRWEB) November 27, 2013
Upchurch Watson White & Max Mediation Group released an initial video in a new online educational initiative on Wednesday, Nov. 20. In a little more than six minutes, UWWM mediator Sandra C. Upchurch lays out the finer points of opening comments in mediation for interviewer Katherine Hurst Miller, a civil litigator with local law firm Cobb Cole.
For this opening segment, Ms. Miller represented The Florida Bar Young Lawyers Division, the mediation group's partner in producing a series of six "Mentoring with the Masters" videos. Ron Hurtibise of Margate's Florida Legacy Productions, assisted by Jared Lader, shot all of them over two days at the mediation group's Maitland office.
Plans are to relelease the Mentoring with the Masters videos on a weekly basis via Upchurch Watson White & Max's YouTube channel (youtube.com/user/UWWMMediation), according to this schedule:
-- Nov. 27, 2013: "Preparing Your Mediator," featuring Ms. Upchurch and Melanie Griffin, current president of the Young Lawyers Division and a litigator with Dean Mead of Orlando.
-- Dec. 4, 2013: "Preparing Your Client," featuring Karen Persis (karenpersis.com), who has a solo law practice in Orlando, with Ms. Upchurch.
-- Dec. 11, 2013: "Anchoring in Negotiation," with UWWM mediator and shareholder A. Michelle Jernigan and Amy Rigdon, a civil litigator with Holland & Knight in Orlando.
-- Dec. 18, 2013: "Bracketing in Negotiation," featuring Felipe Guerrero of Dean Mead and Ms. Jernigan.
-- Jan. 8, 2014: "What's Going on in the Other Room?," in which UWWM mediator and shareholder Richard Lord observes the reasons for the waiting game parties and attorneys in mediation often must play. This final video of the initial series also features interviewer LaShawnda Jackson of Rumberger Kirk and Caldwell in Orlando.
About Upchurch Watson White & Max: As a nationally leading mediation specialty firm, we are known for facilitating reasonable agreements to resolve complex issues. From eight offices in Florida and Alabama, twenty-nine Supreme Court certified attorney mediators with wide-ranging practice areas serve as court-appointed and privately employed mediators, arbitrators and third-party neutral case managers, implementing innovative methods of alternative dispute resolution across the country. On the Web: uww-adr.com