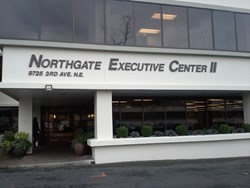 Seattle, WA (PRWEB) November 29, 2013
Viridian Tax and Accounting is moving to a new office in Northgate, just 3.5 miles east of its previous location on Holman Road, effective December 1, 2013. The new office building, Northgate Executive Center II, was built in 1979, is six stories tall, and is spread over 3 acres. Viridian Tax and Accounting office is located on the third floor, suite 302.
Viridian's phone and fax numbers will stay the same (Office: 206.782.4837/Fax: 206.781.1547). The new address is:
9725 Third Avenue NE, Suite 302
Seattle, WA 98115
Just two blocks south of Northgate Mall, Viridian's new office offers convenient access to I-5, ample parking, and easy access to the Northgate Transit Center.
Speaking recently about the move, CEO Adriel Tam said, "As part of our continued growth, and in response to client demand, we are moving to a more central location along the I-5 corridor. We are delighted that our new office space will be right next to the transit center, have an abundance of parking for clients, and a close proximity to other professional services that our clients need."
Viridian Tax and Accounting merged with Bloom & Company in August of 2012; Bloom & Company CPA's, P.C. was founded in 1979 and has served its clients for over 30 years in the greater Seattle area. Viridian specializes in tax preparation, planning, and accounting for individuals, companies, and estates.
Viridian is hosting an Open House at the new location on Thursday, December 12, 2013, between the hours of11:00 a.m. and 6:00 p.m. Light refreshments will be served; no R.S.V.P. is required, all are welcome to attend.