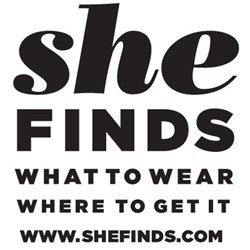 These gifts simply aren't going to last!
New York, New York (PRWEB) November 22, 2013
The holiday shopping season is upon us and there are endless products and gifts to choose from for your family and friends this year. Women's shopping site SheFinds.com, has released its popular annual "Going, Going, Gone" gift guide - a list of items that will sell out quickly. If you want any of these 28 gifts this season, you're going to have to act fast.
"My team of editors has literally spent months researching the trends and shopping patterns for this holiday season," says SheFinds Media founder, CEO and shopping expert Michelle Madhok. "We have compiled the most comprehensive list of products, from women's fashion to consumer electronics and everything in between, that will not stay on the shelves for long. Everything in our buyer's guide is currently available, but come December you will be scrambling to find them. These gifts simply aren't going to last!"
Some of this year's quick selling items include the iPhone 5S ($199), a Karl 7 Klassic Chronograph watch ($375), AG Coated Legging jeans ($205), Jeffrey Campbell Everly Booties ($199.95), Tory Burch perfume ($110) and a Vita Fede Mini Titan bracelet ($225).
You can find this year's full "Going Going Gone" list at SheFinds.com/gifts2013. All items in the holiday gift guide include links to where buyers can purchase the items right now.
About SHEFINDS.COM
SheFinds is like a cool, stylish, in-the-know friend who's always up on what to wear and where to buy it. We aim to curate shopping content on the web, making it easy for women to find the best of what they're looking for. When women come to the site, they'll find wearable versions of the season's trends, shopping advice, great beauty products, the latest sales and coupons, along with links to purchase all featured items. For additional information, please visit http://www.SheFinds.com.
MICHELLE MADHOK
Online Shopping Expert, Michelle Madhok is the Founder of SheFinds.com a website that help busy women everywhere shop the web for the latest beauty and style finds.
A widely regarded expert in online shopping, Michelle is also the style columnist for and a contributing editor for MSN Shopping, Real Simple and Better.TV. Her style and shopping tips have been featured in numerous newspapers and magazines, radio and television interviews, including Metro newspapers in New York and Boston, Women's Wear Daily, The Tyra Banks Show, GMA, NBC, Investor's Business Daily, The Chicago Tribune, The New York Post, and the Washington Post. She has been a spokesperson for TJ Maxx, Bank of America, Pay Pal, Capital One, Microsoft and many other fortune 500 companies.
Prior to launching SheFinds, Michelle enjoyed a career in new media. First, she was the Director of Entertainment Marketing for CBS Broadcasting New Media and then she was the Group Director of Editorial Products for women and oversaw all content for women at AOL. Michelle has a BS in Communications from UC Berkeley and a MS in Marketing from Northwestern University. She currently resides in New York City.