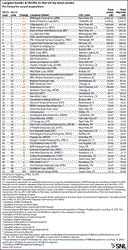 (PRWEB) November 21, 2013
In the third quarter of 2013, the top 13 U.S. banks and thrifts showed no change in their respective rankings by total assets. The list continued to be headed by JPMorgan Chase & Co. and Bank of America Corp., which were the only institutions holding more than $2 trillion in assets. Santa Clara, Calif.-based SVB Financial Group was the lone new entry to the top 50 list, relative to the second-quarter 2013 list, replacing Green Bay, Wis.-based Associated Banc-Corp.
Methodology
SNL ranked the largest banks and thrifts operating in the U.S. with a deposits-to-assets ratio of at least 25%. Some large financial institutions regulated as bank holding companies, such as Goldman Sachs Group Inc., Morgan Stanley and American International Group Inc., did not meet the threshold, so they were not included on the list.
Another notable exclusion was UBS Bank USA, which had $43.23 billion in assets as of Sept. 30. It was left off the list due to its company type as an industrial bank.
SNL calculated pro forma assets for companies with pending M&A deals or deals that have closed since Sept. 30. The M&A deal must involve a bank or thrift target with assets of at least $5.00 billion or have a deal value above $200 million to be reflected in the rankings. Four of the companies on the top 50 list had pending deals large enough to qualify for adjustments.
Pro forma adjustments
The largest adjustment was for Buffalo, N.Y.-based M&T Bank Corp.'s pending acquisition of Paramus, N.J.-based Hudson City Bancorp Inc. The deal, which was announced in August 2012, is still awaiting regulatory approval. Once completed, the acquisition of Hudson City will boost M&T's total assets to approximately $123.61 billion from $84.43 billion, using Sept. 30 data.
Two other banks on the list are growing through significant acquisitions. Pasadena, Calif.-based East West Bancorp Inc. announced Sept. 18 the acquisition of Houston-based MetroCorp Bancshares Inc., which will expand the franchise's assets by $1.63 billion. And San Antonio-based Cullen/Frost Bankers Inc. announced on Aug. 13 the acquisition of WNB Bancshares Inc. The deal will add $1.53 billion in assets.
Going in the other direction, Citigroup Inc.'s assets will decline by approximately $3.91 billion from the planned sale of its Brazilian credit card and consumer finance business.
Additionally, Bank of America had one pending specialty finance deal that met SNL's threshold for calculating a pro forma ranking, but there was not enough disclosure to make adjustments. On Jan. 6, it announced the sale of a residential mortgage servicing rights portfolio with a deal value in excess of $7 billion.