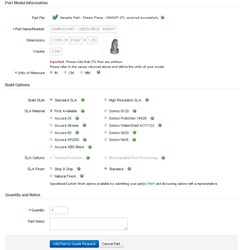 Noblesville, IN (PRWEB) November 21, 2013
Realize, Inc. announced immediate deployment of their new and user friendly instant online quoting system on their website, http://www.realizeinc.com. RealFastQuotes! is a new custom software enabling clients to instantly quote SLA projects and place orders on their own. Customers will now have a choice in how they interact with Realize and will now have the luxury and flexibility to create quotes 24 hours per day saving time and adding convenience for their SLA orders at http://rfq.realizeinc.com.
"The instant online quoting system offers our customers a completely new experience and helps accelerate the way we do business with our SLA operations. When customers create an account, they will be able to produce a quote, place an order and review their account history all on their own," said Alan Conlu, Client Success Manager at Realize, Inc.
Many customers have already benefited from using RealFastQuotes! during the beta testing phase. "I really appreciate Realize implementing their new online quoting system. It's a huge time saver for Impulse. We can generate budgetary numbers for our projects completely on our own and instantly determine our prototyping costs. Instead of calling or emailing multiple times, we can automatically evaluate the effect of ordering different quantities of part," said Troy Mason, of Impulse Design & Engineering.
Founded in 1999, Indiana-based Realize has grown into one of the largest rapid prototyping companies in the Midwest. Realize creates customized rapid prototypes of products for clients in numerous industries, including biomedical, aerospace and electronics. Services include Stereolithography (SLA), 3D Printing, RTV molding and Cast Urethane Models, and Custom Finishing and Painting. Learn more about Realize by visiting http://www.realizeinc.com.