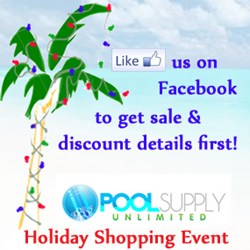 I can't think of a better gift than more time to enjoy your pool!
Ontario, CA (PRWEB) November 22, 2013
Pool Supply Unlimited is excited to announce their first annual Holiday Shopping Event. They will be offering unprecedented discounts on many popular items including automatic pool cleaners, pumps, accessories and more.
With prices well below wholesale, this is the time for shoppers to get much need pool supplies and equipment at the best prices of the year. Weather shopping for the right holiday gift or just stocking up for next year's pool season, customers will kick themselves if they don't take advantage of these monumental deals.
"While our customers wouldn't usually think of pool products as holiday presents, I can't think of a better gift than more time to enjoy your pool," Pool Supply Unlimited Vice President, Mike Barber said. "Giving someone an automatic pool cleaner will save hours of manual labor – it's the gift that keeps on giving."
In addition to amazing deals on swimming pool supplies and equipment, Pool Supply Unlimited has an exciting selection of game room games, patio furniture and accessories and landscape accents. Even if you're not shopping for a pool owner, you're sure to find the perfect gift!
Pool Supply Unlimited's Holiday Shopping Event will kick off at midnight on Black Friday, run all weekend, and end with a bang; featuring $50 off all Pentair Intelliflo and Whisperflo pool pumps on Cyber Monday only. This is just one of many unbelievable sales PoolSupplyUnlimited.com will feature - To get the rest of the details on special discounts and promotions connect with them via email, Twitter, Facebook and Google+.
About Pool Supply Unlimited
Pool Supply Unlimited is managed by veterans of the pool and spa industries. 20 years' experience allows them to provide unparalleled customer service. They offer an unmatched selection of pool, spa and patio products from the industry's leading brands. For more information about Pool Supply Unlimited, please visit http://www.PoolSupplyUnlimited.com.