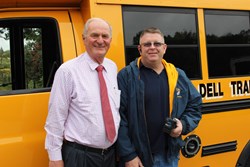 "Our drivers love having the Dual-Vision™ in their buses and it makes them more aware of their environment and gets them to slow down." says Bob Pape, Principal of Transportation at Dell
Queens, NY (PRWEB) November 21, 2013
Increasing awareness of unsafe driving habits has forced law makers to implement harsher penalties for those who do not comply with new distracted driving laws. These laws have made it a necessity for fleet owners to take preventative measures to ensure compliance within their companies. Dell Transportation, a school bus fleet located in Port Washington, N.Y. has equipped their drivers with the Dual-Vision™ Continuous Video and Automotive Event Recorder. Studies have shown that automotive event recorders are proven to reduce accident rates by 27% in fleets.
Dell began using the Dual-Vision™ two years ago for accident prevention and student management security; today 100% of their 145 school bus fleet is equipped with the AER device with all vehicles operate daily. Part of the fleet was recently upgraded with the new Dual-Vision™ XC 2+1 with third camera capability for increased visibility. The new third camera option is ideal for the Type "C" and Type "D" school buses where cameras have often had difficulty capturing images of the deep interiors of the school bus.
Dell Transportation has been "Proudly Transporting Long Island's Most Precious Cargo Since 1956," and they are continually finding new technologies for optimal safety for both the driver and the students they transport.
Principal of Transportation at Dell Bob Pape says, "Our insurance premiums have gone down and our insurance company underwrites nearly 100% of the Dual-Vision™ devices. Our drivers love having the Dual-Vision™ in their buses and it makes them more aware of their environment and gets them to slow down. The device also exonerates them from false accusations and improves the safety for both the children and drivers alike."
The Dual-Vision™ XC is Rosco's signature line of continuous automotive event recorders (AER) and is engineered to elevate fleet safety. The XC devices capture interior and exterior footage, supply GPS information, and offer instantaneous feedback to drivers. Choose the best Dual-Vision™ high capacity recording system for your fleet requirements. This sleek device is easily positioned on the interior windshield with minimal visual obstruction. It records audio and video in a 310° range and shares alerts with drivers in real time, such as when speed limits are surpassed. A continuous recording system for commercial vehicles allows fleet managers to monitor dangerous driving habits as well as safe driving practices. It serves as a crucial training tool for both fleet managers and drivers. Dual-Vision™ AER models provide the digital footage that companies require, with as many as 160 recording hours available. They also assist commercial drivers in following federal laws regarding distracted driving and hand-held devices. Failure-to-comply fines negatively impact drivers and businesses, with potential fees in the thousands of dollars.
About Dell Transportation, Inc.
Founded in 1956 by Nicholas Laucella, Dell Transportation began operating as a limousine transportation company in Port Washington, N.Y. By the 1970's, Dell had become a leading provider of school transportation in Nassau County. In addition, they began to get involved in the national school transportation scene, getting involved with the New York State School Bus Contractors Association, The New York Association for Pupil Transportation, the National Association for Pupil Transportation, and the National School Transportation Association. Kevin Clifford, Kevin Kalberer and Robert Pape, the current President, Vice President and Secretary/Treasurer of our company each have extensive experience in the field of transportation, and are ready, willing and able to respond to any customer needs. They work hand in hand with their teams to guarantee that our districts get the quality service they deserve.
About Rosco, Inc.
Rosco, Inc. is North America's largest bus mirror manufacturer, and a vision safety leader in backup camera systems, automotive windshield based camera recording, rearview interior/exterior mirrors and sun visors in numerous bus, truck, specialty, recreational and military vehicle markets. Founded in Manhattan, New York in 1907 as a safety product manufacturer for the automotive and aeronautical markets, Rosco moved to its current location in Queens, New York in 1964. Over 100 years later, the company is the largest supplier of mirror and camera systems to the North American bus, truck, military, and insurance markets, selling to all major OEMs and parts distributors including Navistar/IC Corp., Freightliner/Thomas Built, Blue Bird, AM General and insurance companies like National Interstate and Lancer.