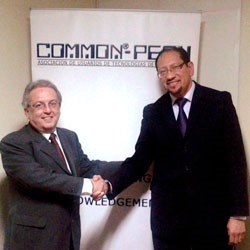 "We are going to be able to optimize, through technological mechanisms, the implementation of document management so that the comunications managed by Common can arrive in an timely manner and can generate optimal workflows - Gustavo Castillo, Common Peru
Lima, Peru (PRWEB) November 25, 2013
Common Peru and RODELU Consultores Tecnológicos signed an agreement of mutual cooperation today. As part of the agreement RODELU gave Common Peru the document management software DOKMEE from Office Gemini, an American software manufacturer. The agreement was signed today by the president of the Asociación Common Perú, Gustavo Castillo and by the CEO of RODELU, Antonio Garin Rodríguez.
A document management solution has as its main mission the filing and storage of electronic files which can be generated by information systems, digitalized documents, or any type of file from or for the organization. They include audio, videos, pictures, and emails that don't normally come with any indexing information. Document management systems offer storage, security, the ability to recover files and do indexing for complex searches. Documents and files will always be quickly and easily accessible. Dokmee's security features guarantee the integrity of the documents by preventing the loss of documents, damage to documents and by restricting access to authorized users. The powerful search tools included in the software not only allow for detailed multi-faceted searches but files can also be found quickly through full text features and through the folder structure.
Thanks to this agreement, Common Perú will benefit from the experience and the knowledge of RODELU in everything related to document management in a professional and personalized way. RODELU will provide support to the association throughout the life cycle of the processes designed to administer the flow of documents with the end goal of maximizing functionality and efficiency.
The goal was to sign an agreement that betters processes and that brings the association into the information age. "We are going to be able to optimize, through technological mechanisms, the implementation of document management so that the communications managed by Common can arrive in an timely manner and can generate optimal workflows that will give efficiency to the institution and quality to the outcomes," stated Gustavo Castillo, President of Common Peru.
About Office Gemini:
Office Gemini is an international software manufacturer focused in the document management and document scanning industry. Office Gemini distributes its software products through a vast worldwide network of value-added resellers (VARs). From great software products and implementation assistance to strategic document management and scanning consulting services, we are able to provide a wide range of services to our end users and VARs equally. Our sales and support specialists are not only experts on our own software products, but are also very knowledgeable about the industry as a whole and can help with complementing software and hardware products. The flagship software Dokmee is used by thousands of customers in more than 30 countries and is available in 16 languages. Office Gemini is headquartered in Houston, Texas and has offices in Europe and Brazil.
For more information on Dokmee and Office Gemini, please visit http://www.dokmee.net/ and http://www.officegemini.com/ .