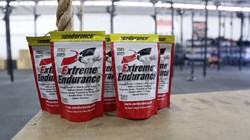 Carefree, Arizona (PRWEB) November 21, 2013
The undisputed toughest WOD for multi-functional athletes is Fran. That's why Xendurance chose Fran for the latest study on buffering lactic acid. Fran is unanimously difficult because of the high level of lactic acid buildup in your body during the workout. And with all the hype Extreme Endurance is getting across the globe, they needed to prove a point. And once again, Extreme Endurance passed the test and kicked Fran in the acid. Here's the results of the study:
An open label test was conducted at East Valley CrossFit in Chandler Arizona on a sports nutrition product called Extreme Endurance. This is the second study completed on the product. In a landmark 10-day third party, double blind, placebo-controlled, crossover, clinical study conducted and published in 2008, Extreme Endurance reduced lactic acid by 15% on a group of 22 endurance athletes. The most recent study was conducted to compare the results achieved on endurance athletes to the results of multi-functional athletes.
A group of 11 multi-functional athletes, ranging in age from 19 to 66, both males and females, were randomly selected for the test. The athletes were chosen from a group of multi-functional athletes with a minimum of ten straight months of training. The test subjects would complete two Fran WODs over the course of 7 days. "Fran", one of the most well-known and frequently tested benchmark workouts among multi-functional athletes, is a couplet that exercises a 21-15-9 repetition scheme of front squat thrusters (95lbs for men, 65lbs for women) and pull-ups.
All athletes who took part in the study, had a two-week washout period before the test (not using Extreme Endurance). The washout period was used to make sure no athlete had been using Extreme Endurance prior to performing the first WOD. Each participant had a judge to monitor the validity of each rep and record an accurate completion time.
At 8 a.m. on September 2, all athletes were measured for their lactic acid levels before they conducted their warm-up. They were measured again immediately after completing their WOD and 10 minutes after finishing their WOD. These measurements were to record the lactic acid recovery levels. After completing the first test, all participants were given a 7 day supply of Extreme Endurance and instructed to take 3 tablets in the morning and 3 tablets in the evening and then return to East Valley CrossFit for their second Fran WOD 7 days later.
At 6 a.m. on September 9, all athletes were measured for lactic acid levels, before warming up, and immediately after finishing their WOD. They were also tested for lactic acid levels 10 minutes after finishing their WOD. Just like the 7 days prior, we were checking for lactic acid recovery levels.
The results of the study were amazing.
As with most studies to give a more accurate result summary, they deleted the very best performance. A 66-year-old male who did a modified Fran work-out (the only athlete to modify Fran) and improved his time by over 2 minutes. And they deleted the worst performance.
The results of the remaining 9 athletes improved by 6.2% or 22 seconds faster times in performing Fran after a one week's usage of Extreme Endurance. It also showed an 8.9% lower lactic acid levels immediately after completing their WOD and a 7.1% decrease in lactic acid 10 minutes after completing their workout.
In summary, Extreme Endurance helped these athletes perform at a higher level and lowered lactic acid buildup both during and after their WOD. Lowering the lactic acid (acid hydrogen ion), lowers the stress level of the athlete and dramatically improves recovery time and muscle soreness. Lower lactic acid levels allow athletes to increase their training load both in the short and long-term training intervals.
About The Study: Throughout the study we tested the blood using a Hitado Super, GL biosensor system. The lactate analysis was conducted by Juergen Sessner, sports scientist. Juergen has done over 8000 stress tests in the last 15 years on endurance athletes. Juergen has also worked for 10 years in the First German Soccer League, as a strength and conditioning coach and is currently a very successful triathlon coach with over 70 professional and age group triathletes.
About The Company: Xendurance and its flagship product Extreme Endurance, is the global leader in buffering lactic acid within the sports industry. The company's scientific leadership in the United States and Europe makes Xendurance the perfect fit for athletes with the desire to win. The entire product portfolio is designed to work synergistically to maximize an athlete's performance while living a healthier life. For more information, go to xendurance.com.
MEDIA CONTACTS
Sandy Kellin (480) 488-1480, sandy(at)xendurance(dot)com